Led Zeppelin Discography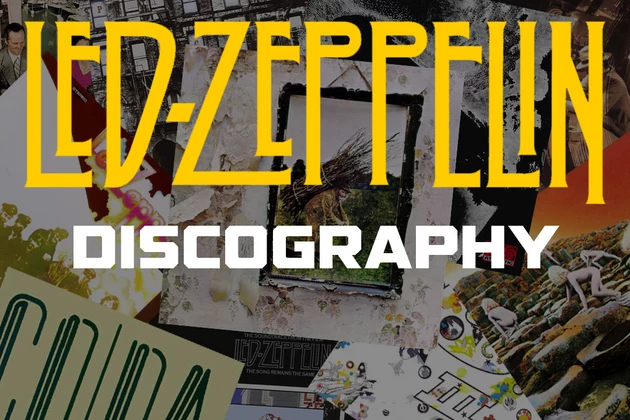 Led Zeppelin's discography has come to encapsulate the '70s, in the same way the Beatles' recorded output loomed as a monolithic presence in the previous decade. The successive musical era was defined by album-length musical expression, outsized lifestyle choices and dazzling concert spectacle, and no one band so perfectly personified each facet.
They kicked off the decade with a bang, offering a metric ton of heavy blues over two albums before boldly diversifying into one of rock's most exciting bands. By their fourth album, Led Zeppelin were working within a stirring range of styles, even as they continued to make and then break their own rules. That 1971 project would go untitled, and would yield no singles. Yet, it still went 23-times platinum in the U.S.
Eventually, fatigue and personal tragedy slowed Led Zeppelin, and then ground the band to a complete halt. But not before they'd created a catalog of music – carefully curated more recently through a lengthy reissue series by Jimmy Page – which remains a well spring of inspiration for musicians working in every genre from hard rock to alternative, from folk to metal.
Source:
Led Zeppelin Discography