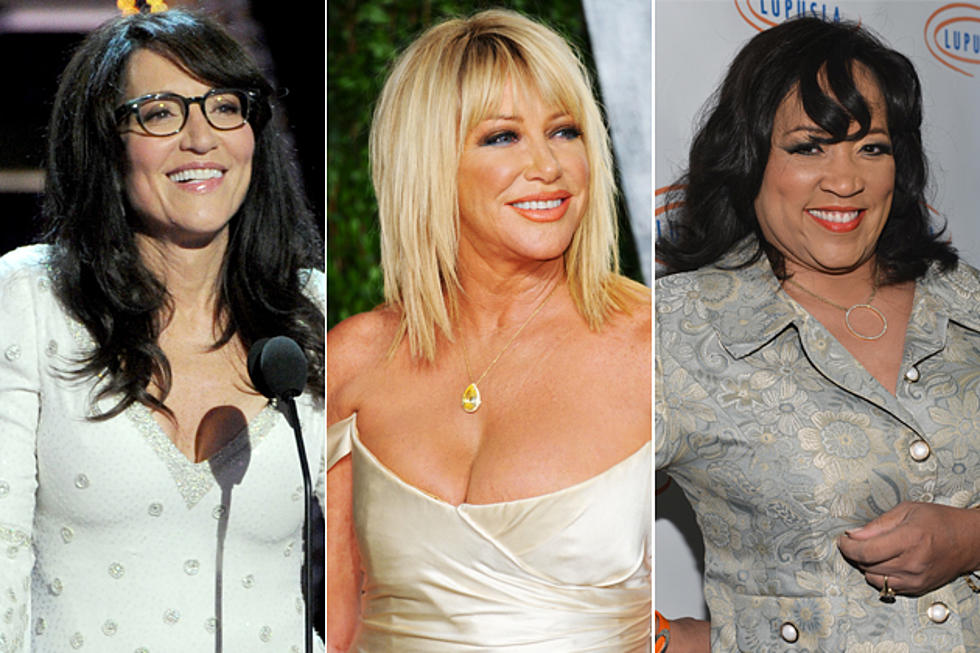 '90s Sitcom Moms Then and Now
Kevin Winter / Alberto E. Rodriguez, Getty Images
Oh, the '90s sitcom mother. How do we miss thee!
The role was often one of quiet intelligence; one of family values and understanding. There was something truly special that each of us fans saw in the likes of Amy Matthews, Jill Taylor and Aunt Vivian (even her replacement). But, alas, as much as we hate to admit it, sitcoms do end, and the television moms we grew to feel connected with during our adolescence move on to sometimes bigger and better things.
So shall we see what some of our favorite onscreen mothers from the 1990s are up to now?
Betsy Randle -- Amy Matthews (' Boy Meets World')

Then: Randle played Amy Matthews, the always pleasant mother on 'Boy Meets World' from 1993-2000. As the wife to Alan and mother of Corey, Eric, Morgan (remember her?), and pretty much Shawn Hunter, Randle's role in the show grew as the series developed, often playing the part of the advice-lending wise woman.

Now: Married to film and television editor John Randle, and mother of two children, Randle looks to have done more acting before her 'Boy Meets World' success than after. Subsequent to the role of Mrs. Matthews, Randle went on to appear in 'The Nightmare Room' and even a four-episode stint on 'Charmed' -- her last on-screen credit, way back in 2004.

Patricia Richardson -- Jill Taylor ('Home Improvement')

TBS / Alberto E. Rodriguez, Getty Images

TBS / Alberto E. Rodriguez, Getty Images

Then: In the classic "idiotic husband/level-headed wife" scenario that sitcom characters tend to find themselves, perhaps one of the most well-known is that of Tim and Jill Taylor on the '90s hit 'Home Improvement.' Richardson, playing the part of Jill, became the voice of reason among a household filled with a man who stood as a wannabe Bob Vila and three boys who all went through awkward puberty stages. (Taran Noah Smith, anyone?)

Now: Since her 'Home Improvement' days, Richardson has appeared on shows such as 'The West Wing' and 'Strong Medicine,' as well as scoring some success as an actress in films. Richardson joined the cast for a reunion in 2011.

Jackee Harry -- Lisa Landry ('Sister, Sister')

WB / Alberto E. Rodriguez, Getty Images

WB / Alberto E. Rodriguez, Getty Images

Then: Harry played the snappy, lovable Lisa Landry on 'Sister, Sister' from 1994 -1999. It wasn't her first gig on television -- she made a splash as the sassy Sandra Clark on '227'-- but it is the one that got her a spot on our list. Matched with Tim Reid (playing Ray Campbell), Harry portrayed the mother to Tia, with Reid being Tamara's father. But naturally, the two often found difficulties telling them apart.

Now: Harry continues to bring her signature attitude to roles post-'Sister, Sister.' Having consistently worked on multiple television shows (including a run on Chris Rock's 'Everybody Hates Chris' and a turn on 'Glee,'), Harry also appeared as Paulette on 'The First Family.'

Katey Sagal -- Peggy Bundy ('Married with Children')

FOX / Kevin Winter, Getty Images

FOX / Kevin Winter, Getty Images

Then: Katey Sagal played the somewhat trashy but always hilarious Peggy "Peg" Bundy on the famed 'Married with Children.' While the rest of television was doing much of the same, 'Married with Children' acted as the anti-sitcom, with a misogynistic husband and a wife who had no problem professing how dumb her spouse was. Together, Sagal and Ed O'Neill rode the fame roller coaster straight to the top -- and they're even doing quite well today.

Now: Apparently, 'Married with Children' was just the beginning for Sagal. Since then, she went on to appear in shows such as 'Boston Legal,' 'Lost' and even went the sitcom route again on '8 Simple Rules.' Among younger viewers she's perhaps best known for her roles as Leela on 'Futurama' and Gemma on FX's 'Sons of Anarchy.'

Suzanne Somers -- Carol Foster-Lambert ('Step by Step')

IMDB / Alberto E. Rodriguez, Getty Images

IMDB / Alberto E. Rodriguez, Getty Images

Then: Starring on a sitcom wasn't necessarily new to Suzanne Somers, who stole hearts and mesmerized men as Chrissy on 'Three's Company.' So when she found herself playing mom Carol Foster-Lambert on ABC's 'Step by Step,' she pretty much knew what to expect. And while her past found her as a sex symbol, 'Step by Step' labeled her as just a fun-loving mother... who was still pretty sexy.

Now: Not having done much acting after 'Step by Step,' (aside from hosting a revival of 'Candid Camera' and her one-woman show) Somers has found success as an author, particularly of best-selling self-help books. However, in 2012, she began 'Breaking Through' -- an online talk show at CafeMom. She also hosted 'The Suzanne Show' on Lifetime for a brief 13-episode run.

JoMarie Payton -- Harriette Winslow ('Family Matters')

Then: Payton played the quick-witted Harriette Winslow on 'Family Matters.' However, the first time we were introduced to her character was on the 1987 series 'Perfect Strangers.' Word has it that fans took so strongly to her that she was given her own sitcom -- enter 'Family Matters.' Apparently she wasn't expecting the-then unknown Jaleel White (Steven Urkel) to also take so stongly.

Now: Payton left the series partway into its final season (she was replaced by Judyann Elder) but continued to act in small roles on various well-known programs, including 'Meet the Browns,' 'Desperate Housewives' and 'Girlfriends.'

Holly Robinson Peete -- Vanessa Russell ('Hangin' With Mr. Cooper')

ABC / Jamie McCarthy, Getty Images

ABC / Jamie McCarthy, Getty Images

Then: Not a stranger to television stardom (Peete played Officer Judy Hoffs on '21 Jump Street'), we were delighted to see her portraying Vanessa Russell in 'Hangin' with Mr. Cooper.' The show ran from 1992-1997 with the relationship between Peete and fellow cast member Mark Curry's character going from roommates to romance.

Now: After 'Hangin' with Mr. Cooper' ended, Peete appeared to have no trouble finding work. She was seen everywhere from 'For Your Love' to 'Like Family' to 'Mike & Molly.' In fact, she also reprised her role of Officer Judy Hoffs in the film version of '21 Jump Street'. And let's not forget her run on 'The Celebrity Apprentice.' No, she didn't win, but it sure was enjoyable watching!

Janet Hubert -- Vivian Banks ('The Fresh Prince of Bel-Air')

Then: Before her role as Aunt Vivian on 'Fresh Prince of Bel-Air,' Hubert was living a pretty good life in New York as a commercial and voiceover actress, as well as performing dance. According to her, it was her agent that pushed her to do the show, not her own strong desire to do so. But that doesn't mean she didn't kill it as Will Smith's Aunt.

Now: Having left 'Fresh Prince' after season three for "contract issues" (word has it she had issues with the show's star), Hubert has continued acting. She appeared on 'NYPD Blue,' 'Gilmore Girls,' 'One Life to Live' and 'Tyler Perry's House of Payne.'

Daphne Reid -- Vivian Banks ('The Fresh Prince of Bel-Air')

IMDB / Frazer Harrison, Getty Images

IMDB / Frazer Harrison, Getty Images

Then: Aunt Viv #2, Daphne Maxwell Reid, played the role from season four to the show's end in 1996. It wasn't her first television role -- having worked on everything from 'The A-Team' to 'The Cosby Show' -- but it might have been the one that made us fall in love with her.

Now: While her acting credits seem to have diminished slightly post-'Fresh Prince,' Reid appears to remain active. In addition to a stint on 'Eve,' she owns and operates New Millennium Studios, along with husband Tim Reid (from 'Sister, Sister'), and serves on the Board of Visitors at Virginia State University.

Shelley Fabares -- Christine Armstrong ('Coach')

YouTube / Frazer Harrison

YouTube / Frazer Harrison

Then: Ending out our list is the famed actress/singer Shelley Fabares. Having gained notoriety for various television shows and co-starring three times alongside Elvis Presley, we're choosing to pay tribute for her role as Christine Armstrong on 'Coach.' Back in the day, the love interest of Hayden Fox (Craig T. Nelson) from 1989-1997 made her one of the memorable sitcom women of the '90s.

Now: Today, Fabares appears to be retired, despite working as a producer for the SAG Awards. But let's face it: she has had a career lasting just about 60 of those years, so perhaps a break was needed.
More From The Moose 94.7 FM