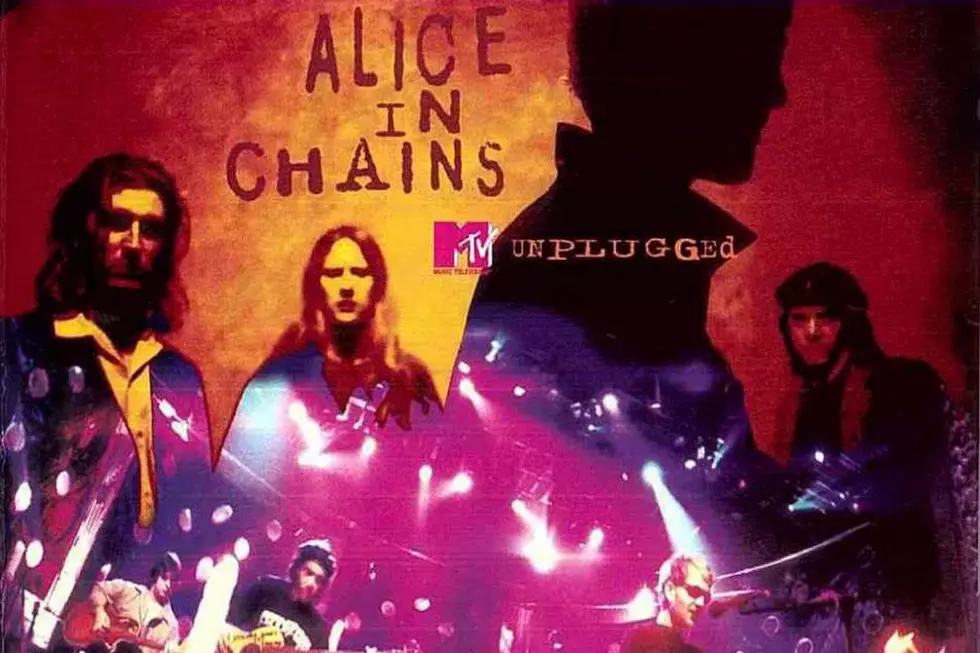 20 Years Ago: Alice in Chains Go Acoustic for 'Unplugged'
Columbia
There's a pivotal moment during Alice in Chains' taping of MTV's Unplugged, which was released on July 30, 1996.
Frontman Layne Staley begins singing "Sludge Factory" in front of an audience at the Brooklyn Academy of Music's Majestic Theatre and transposes the second line in the second verse for the second line in the first verse. Immediately realizing his error, he exclaims, "F---!" as the rest of the band nonchalantly stop playing.
"Try one more?" he asks Jerry Cantrell. "You bet," the guitarist responds, and then Staley looks back for a moment at drummer Sean Kinney before dropping his head into his hands in abject frustration, as it had been several botched attempts at the song to that point.
"We're allowed a couple of those, it's been awhile," Cantrell tells the audience during the show, which had been recorded the previous April. "You guys just get to hear more, that's all."
Before trying once again, there was some good-natured heckling back and forth between the audience and Cantrell and Staley about messing up, culminating when the singer delivers the line, "What's my motivation here?" to explosive laughter and applause.
Like many times prior in the history of Alice in Chains, the moment was a contrasting combination of seriousness and humor that surrounded both the heaviest and most inconsequential of their disappointments. Staley was being truthful though, he really had no motivation at that point; the band had released their self-titled third album the preceding November. It had debuted at No. 1 on the Billboard chart, and a decision was made to not tour in support.
Yet MTV had really wanted Alice in Chains for Unplugged, especially following the success of fellow Seattle outfits Pearl Jam and Nirvana on the show. Alex Coletti, a producer for the series, told David De Sola in Alice in Chains: The Untold Story, "There was just no denying that this band was going to shine, that Layne's voice and those songs were going to shine through."
Coletti was correct in his prediction, and Alice truly thrived in the acoustic setting. This wasn't a surprise to those familiar with the Sap and Jar of Flies extended plays; Cantrell and Staley's harmonies meshed together even more brilliantly than usual. "Brother" and "Angry Chair" are downright haunting, while Staley nails it with his distinctive, penetrating howl on "Rooster" and "Down in a Hole."
There's no question that Unplugged was an unqualified success for Alice in Chains and the appearance marked a return of sorts, as it was the first live one by the group in almost two and a half years. But chances of it happening at all were initially slim, or at the very least fraught with worry the recording would come off positively.
"With MTV Unplugged – [the network] kept asking if we'd do it," Sean Kinney told journalist Greg Prato in Grunge Is Dead: The Oral History of Seattle Rock Music. "Up to the moment, it was just a nail biter. Barely any rehearsing at all, guys not showing up – the same s---. Rolled out there and everything worked. Right then is when I knew, 'OK, if we never do anything again, I'm good with this. I'd rather leave on a high point instead of throwing drug paraphernalia into a garbage can in an airport, while I'm jumping on a plane, hoping to not get arrested.'"
At the time of its release, MTV Unplugged hit No. 3 on the charts; only Nirvana's and Rod Stewart's albums in the format debuted higher. It remains one of the most revered in the string of episodes over the years and had been from the beginning, unlike Nirvana's MTV Unplugged in New York, which was released and grew significantly in popularity retroactively, only after Kurt Cobain's death in 1994. Unfortunately, it would also be one of Staley's final performances before he went into a self-imposed seclusion and passed away in 2002.
Alice in Chains Albums Ranked Worst to First
More From The Moose 94.7 FM