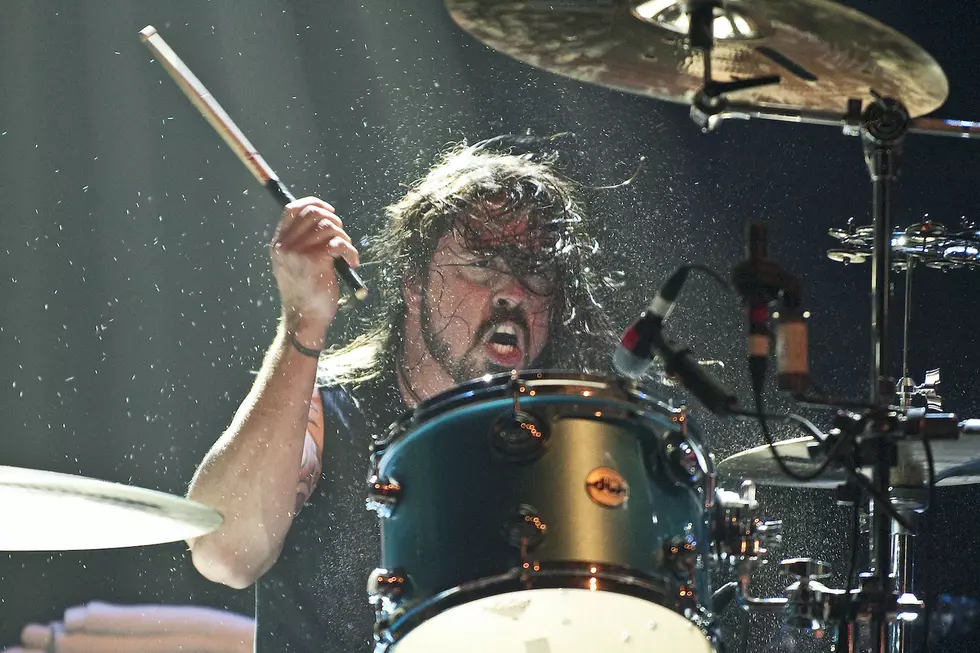 Dave Grohl Recorded Drums for New Foo Fighters Album
Neil Lupin, Getty Images
While we now know that Josh Freese is the touring drummer for Foo Fighters, one other bit of info to come from the Foo Fighters Preparing Music for Concerts livestream was that Dave Grohl is to credit for the drum work on the band's new album, But Here We Are.
Though two songs had been released prior to the livestream, official credits for who played what on the tracks had not been revealed. While there had been some speculation that Grohl, who famously played drums for Nirvana and recorded all the music for Foo Fighters' debut album before putting together a full-fledged band, had taken up the drums again, nothing had been confirmed.
But during the performance from 606 Studios, there was a moment where Grohl and the well-received Freese conversed about the drums on a newly debuted song called "Nothing at All." Freese said to Grohl, "When you explained the beat on the record and you're like, 'I think I played it with one hand,' and I'm kinda doing the same thing. It feels good and sounds cool, you know?"
"It was unintentional," Grohl responded. "I did it when I demoed it at my house, and I'd just woken up and I was tired. But on the shitty drum set at my house, it just kinda sounded better. You're not hitting the hi-hat and the snare at the same time, so it sort of has more space."
Foo Fighters Debut New Song, "Nothing at All"
Grohl had pretty much ceded the drum throne to Taylor Hawkins upon the drummer's arrival in the band, last taking a drum credit on the Hawkins'-led song "Cold Day in the Sun" from the 2005 In Your Honor album. Grohl was credited with drums on the band's self-titled debut as well as the 1997 follow-up The Colour and the Shape. Hawkins joined Foo Fighters right after the second album had been recorded, taking over for the dismissed drummer William Goldsmith. Grohl also played drums on the There Is Nothing Left to Lose single "Next Year,"
READ MORE: Foo Fighters Make Two Special Dedications in New Album Artwork
For those who missed the Sunday livestream, it still remains available for a limited period via Veeps. Get the details below. And be sure to catch Foo Fighters, with Josh Freese behind the kit, on tour. Tickets can be found here.
Top 90 Hard Rock + Metal Albums of the '90s
More From The Moose 94.7 FM