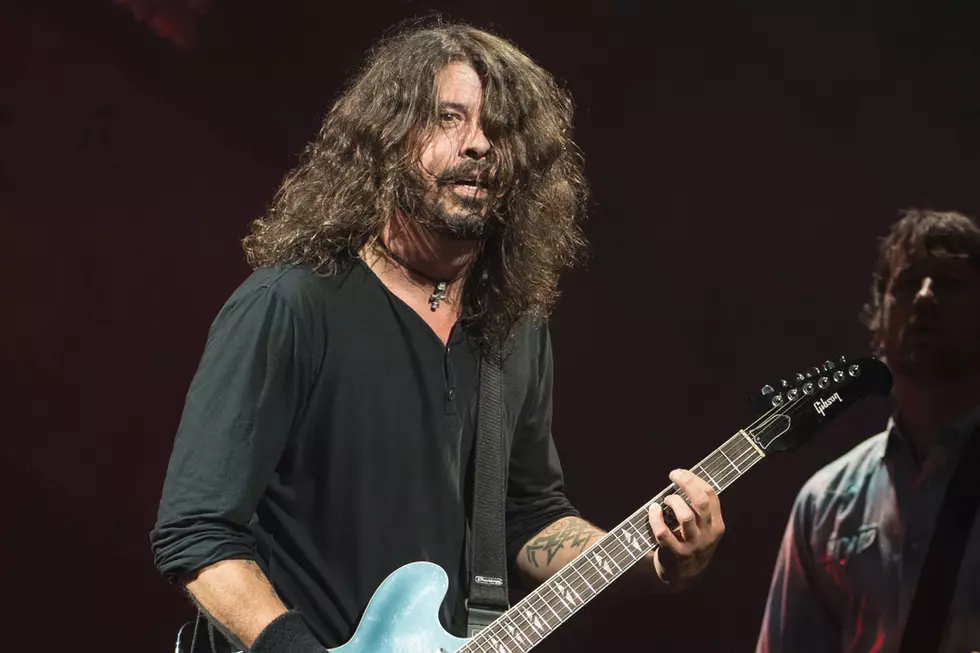 Foo Fighters Debut New Song, 'Dirty Water,' in Paris
Ian Gavan, Getty Images
Last night in Paris, Foo Fighters premiered a fifth tune from their upcoming album Concrete and Gold. You can watch video of "Dirty Water" above.
In addition to "Dirty Water," the band has also previewed "Sunday Rain," "The Sky Is a Neighborhood," "La Dee Da" and the lead single "Run" from the new work, which will be released on Sept. 15. "Run" was the only other Concrete and Gold song that was performed during their 21-song set at the AccorHotels Arena.
Two weeks ago, Dave Grohl disclosed that Concrete and Gold will feature background vocals on one track by "the biggest pop star in the world." Although he refused to give the name, it's largely believed that it's Adele, whose last record, 25, was co-produced by Greg Kurstin, who also helmed Concrete and Gold. Grohl said that he chose Kurstin specifically because of his expertise in pop.
"I think maybe Greg is the guy that we ask to be our producer because he's never made a heavy rock record before and we've never worked with a pop producer," he said, calling Concrete and Gold a combination of "our noise and Greg's big brain and all of his sophisticated arrangements and composition."
Foo Fighters will wrap up their European tour this weekend at the Nos Alive Festival in Lisbon, Portugal. They'll take a month off before playing five dates in the Far East in August, followed by Berlin's installment of Lollapalooza on Sept. 10. Their U.S. dates will begin Oct. 7 at the Cal Jam in San Bernadino, Calif., and will run through Dec. 12 at the Vivint Smart Home Arena in Salt Lake City. You can see all the dates here.
Foo Fighters Albums Ranked in Order of Awesomeness
More From The Moose 94.7 FM