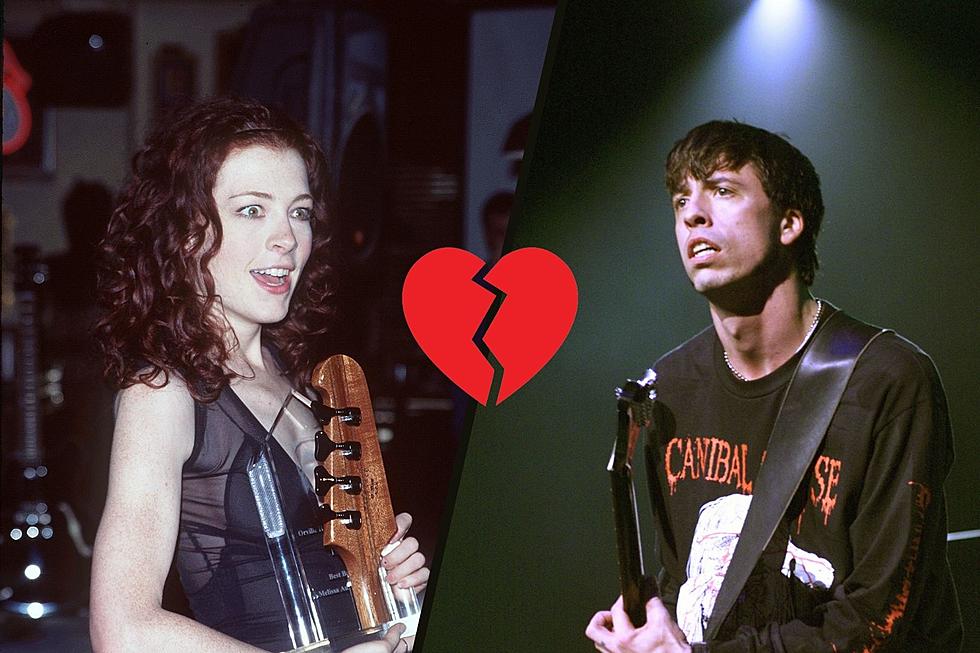 Former Hole + Smashing Pumpkins Bassist Melissa Auf der Maur Reveals Why She Broke Up with Dave Grohl
Brenda Chase, Stringer/Hulton Archive / Scott Gries, Getty Images / Elvinagraph, iStock/Getty Images Plus
Young love is often a beautiful yet fleeting thing, and that was certainly the case for Nirvana/Foo Fighters icon Dave Grohl and former Hole/The Smashing Pumpkins bassist/vocalist Melissa Auf der Maur around the turn of the century. In a recent chat with Sirius XM Radio's Fierce: Women In Music, she reflected on their brief romance and bittersweet breakup.
Auf der Maur was actually the first guest on the show's newest season, and upon being asked about the relationship by host Lori Majewski, she revealed that she and Grohl "brought in the 21st century together and . . . were a very compatible match."
Indeed, they dated from 1999 to 2001 – so, around the time of Hole's Celebrity Skin and Foo Fighters' There Is Nothing Left to Lose – and were "both obsessed, committed to rock music, . . . [and] to the power of music."
She continued [via Sirius XM]:
Um, and both very non-drug addict, um, technically happy, highly functioning people. So, we were very similar and in many ways, I think our roles in Hole and Nirvana [are] what subconsciously pushed us together . . . but it was like holding onto each other for dear light of finding the light, the flame in the sort of scary landscape, which were those two bands. And I was just leaving Hole [and] entering this sort of like farewell finale tour with the Pumpkins.

Dave was just rising up with the Foo Fighters and we had this beautiful compatible couple of years where, I mean, we were madly in love, but we also really recognized the turning point we were both at as 90s musicians that were very close in age, that started very young in our small cool hometowns in Montreal and DX. We had a very similar  group that we came from, from our hometowns that we were, you know, integrity based, independent, you know, we weren't like starving to be rock stars. We came from very integrity-based music scenes in our cool cities.
READ MORE: Dave Grohl Pens Thank You Note to Foo Fighters Fans
Fortunately, she added, "it was all love" when they "broke up," explaining: "It was purely like, 'I love you and I want you to go do what you wanna do and you love me and you want me to go do.' And it was [that] simple and very clear."
What cemented their separation, she confessed, is that she "wanted to retreat from the ginormous corporate hell that our music scene had become, and he was not finished yet and had some more proving or ambitions or business to do."
Finally, she reminisced:
I remember just saying, "Don't you wanna just like settle down into a cool art scene in DC or Montreal and just like be humorous?'"His fire and his ambition was not. And we both, uh, here we are 20 years later, we've got what we wanted. He got to be the biggest rockstar in the world. And I got to be a small-town art factory hero.
You can listen to the full interview here.
As noted by People, Auf der Maur eventually married filmmaker Tony Stone, with whom she has an 11-year-old daughter named River. The couple also co-founded Basilica Hudson, a "nonprofit multidisciplinary art center located in Hudson, NY," in 2010.
As for Grohl, he married TV producer Jordyn Blum, with whom he has three children: Violet (17), Harper (14) and Ophelia (8). Violet even provided vocals for "Show Me How," the third single from Foo Fighters' latest LP, But Here We Are, which came out on June 2, 2023.
If you haven't yet, check out some fan reactions to But Here We Are, as well as what we love most about it. You can also see what numerous revered musicians have said about Grohl over the years, and why some fans are already upset with new drummer Josh Freese.
Finally, be sure to check out Foo Fighters on tour. You can see their upcoming tour dates here and grab tickets here.
10 Deeply Romantic Rock + Metal Lyrics
More From The Moose 94.7 FM