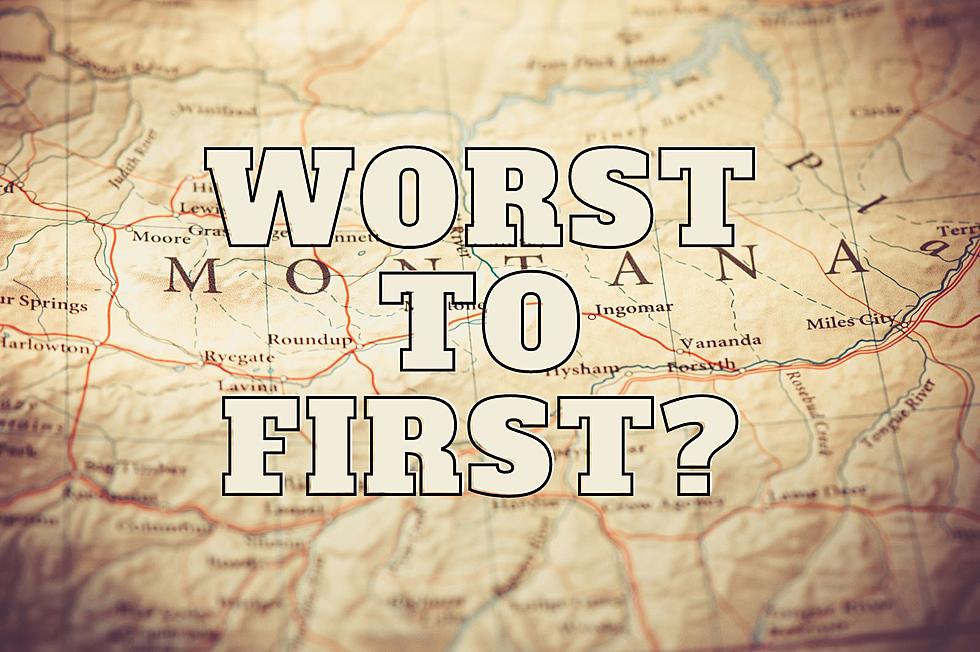 Ranking Montana's 5 Biggest Cities From Worst To First.
Credit: Canva
Montana is one of the largest states as far as land mass goes, however, when it comes to population, we're one of the least populated.
Sure, we have our fair share of cities, and for the most part, we have all of the luxuries that most places have, especially in the bigger towns. But which of the bigger towns are the best, and which ones are the worst?
In order to determine the Worst To First list, let's take a look at a few different factors.
We'll use the following to determine the ranking of Billings, Bozeman, Butte, Great Falls, and Missoula.
Affordability
Curb Appeal
Crime
Education
Employment
Social Scene
Keep in mind, that the outcome isn't personal, nor is it intended to upset anyone, although I'm sure it will.  These rankings are based on the above criteria and nothing more.
#5 Butte, Montana
Personally, I like Butte. The history, the character, the fighting attitude. Butte is unlike any other town on the list. Once known as one of the wealthiest towns in the country, Butte fell on hard times, however, several residents are determined to bring Butte back to at least some of its former glory.  Butte is the most affordable on this list as far as homes go with the median price of 315k, but with a high crime rate and lack of curb appeal around town, Butte comes in 5th on our list.
#4 Billings, Montana
Billings is the biggest city in the state, and as far as retail goes, there isn't much the city doesn't offer. While housing is more than both Butte and Great Falls, it's still less than Bozeman and Missoula with the median home price of 439 thousand. However, with a high crime rate in the state of Montana and a lack of curb appeal, Billings ranks 4th on our list.
#3 Great Falls, Montana
Great Falls plays an important part in the Montana economy with Malmstrom Air Force Base. Plus, there is a considerable amount of things to do and see in and around the area. With the median house price of around 350 thousand dollars, it's certainly more affordable than most of its counterparts. However, the crime rate ranks 2nd highest in the state.
#2 Bozeman, Montana
This will no doubt raise some eyebrows.  Bozeman is an amazing place to live with stunning views, a world-class University in Montana State, and the best school district in the state. There is plenty to do and see and the city has a vibrant downtown scene with some wonderful places to dine and enjoy socializing with family and friends. Not to mention there are tons of outdoor activities and close proximity to Yellowstone National Park, plus a low crime rate. However, the high cost of living keeps Bozeman out of the top spot. With a median listing home price of 925 thousand many Montanans simply can't afford to live in Bozeman.
#1 Missoula, Montana
Taking the top spot is Missoula Montana.  Home to the University of Montana, much like Bozeman, many are flocking to this Montana city. Missoula has lots to offer with a great downtown and lots of social activities for Montanans of all ages.  The school district is very good and there's a healthy mix of jobs for all education levels. However, the crime rate is higher than the national average. Housing is expensive, but still cheaper than in Bozeman with a median listing home price of 649 thousand. 
Credit: Realtor.com
These are the Top 8 Cheapest Towns To Live In, In Montana
Have you been contemplating moving to Montana? Maybe you already live here and the town has gotten so expensive you are having to relocate by no fault of your own. The good news, you can stay in Montana by moving to one of the cheapest towns in Montana.
Top 5 Safest Cities In Montana, 2023
Like every state, there are always going to be a few towns that make us think twice about moving there or deciding where to raise our kiddos. But like I always say, "negative yells and positive whispers". The same goes for crime and violence; we hear about all the drug busts, assaults, break-ins, etc. It's not very often we hear about all the great things right?
See Inside This 40 Million Dollar Montana Dream Home
Grey Cliffs Ranch, just outside of Three Forks Montana is for sale and is listed at just under 40 million dollars. This spectacular property comes with over 6 thousand acres and multiple buildings including a workshop and an indoor arena. The main house is almost 8000 square feet and includes 7 bedrooms, 8 baths, a gym, and much more.
More From The Moose 94.7 FM