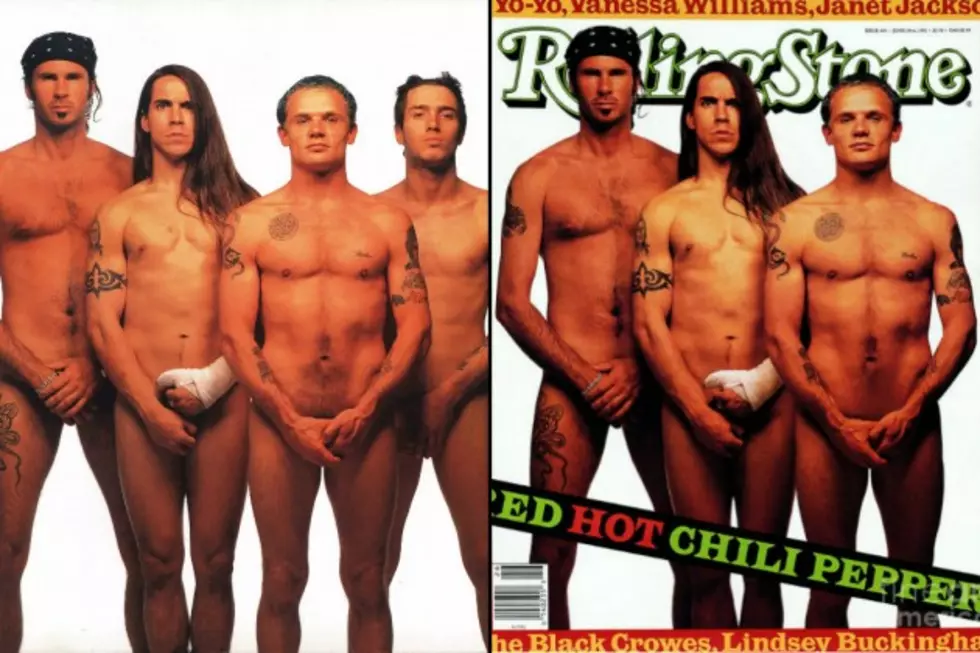 25 Years Ago: John Frusciante Leaves the Red Hot Chili Peppers… the First Time
Rolling Stone
It was a classic case of too much, too soon. In a few years, John Frusciante went from a clean-living teenage guitar nerd to the drug-addicted melodic lynchpin of one of the most popular bands in the world. The transition was too difficult to be achieved gracefully.
Before joining the Red Hot Chili Peppers, Frusciante was a fan – frequenting the group's club shows in Los Angeles and getting inspired by the Freaky-Styley funk of guitarist Hillel Slovak. After Slovak died from a heroin overdose in 1988, the 18-year-old Frusciante was brought on board because of how well he had meshed musically at a practice with bassist Flea. Soon he was recording Mother's Milk with the band and heading out on tour. He began to experiment with drugs, under the influence of his bandmates.
"You've got to remember that I was an absolute RHCP fan," Frusciante told NY Rock in 1999. "Their music meant everything to me, and all of a sudden I was a part of them. They called me 'Greenie' because I was the youngest, but that didn't [make me a drug addict]. I don't know what did it. I probably tried to fit in, make experiences the others made in a long time in a short time."
Even amid the wild experiences, touring was just OK for the young guitarist, who enjoyed creating new music much more. Frusciante found more fulfillment in writing and recording 1991's Blood Sugar Sex Magik than in heading out to play those songs on the road. It's something than put him at loggerheads with the other guys in the band: Flea, Anthony Kiedis and Chad Smith.
"Generally, professional musicians, you finish a record and you go, 'Ah right, we're done!' When you're done with the whole album there's this feeling of 'Now the fun begins!,' you know? Here's the object people are going to buy, and the object's going to sell us, and everyone's going to applaud and take photographs," Frusciante told Noisey in 2014. "For most professional musicians that's an exciting phase to be in, but for me it was always a bummer. It felt like I'd lost a dear friend at the point that a record was finished, you know? That whole thing of using a record to promote yourself and treating music like it's something you're using in order to earn the maximum amount of money, it doesn't sit well with me."
It didn't help that Blood Sugar Sex Magik also became a massive hit upon release in the fall of '91. Boosted by hits "Give it Away" and "Under the Bridge," the Chili Peppers went from a club act to a band capable of packing arenas – something that made Frusciante, then 21, even more uncomfortable. He would argue with Kiedis about the band's success.
As the quartet began to promote the new album, he felt uneasy about playing "the hits" on command. As a passive-aggressive statement, he would often mess with "Under the Bridge," starting the ballad with increasingly weird intros or going off the map during the verses. He stuck to his guns when the Chilis hit Saturday Night Live in February 1992, throwing off a noticeably annoyed Kiedis.
"It felt like I was getting stabbed in the back and hung out to dry in front of all of America while Frusciante was off in a corner in the shadow, playing some dissonant out-of-tune experiment," Kiedis said later.
The tour continued and the heroin-indulging Frusciante stopped ignoring voices in his head that he'd been hearing for the past few months – voices that told him to get off of the road and leave the band for his own well-being. The situation came to a head on May 7, 1992, when the guitarist refused to play with the Chilis at Tokyo's Club Quattro. He was eventually coaxed on stage by his bandmates, but the show would be his last with the band (until he rejoined, six years later). Frusciante quit after the Japanese gig, scuttling plans for a tour of Australia.
"When I left the band at the end, I felt like my life was over, even though I was only 22," he reflected in 2004. "It may seem very stupid now, but then I felt like I couldn't write music or play guitar anymore. I would have never thought to do that in the future."
Frusciante entered a deep depression after leaving the Chilis, self-medicating by increasing his heroin habit to the point that it became life-threatening. He attempted to join the Meat Puppets, painted and recorded new music. Amidst addictions to heroin, alcohol and crack cocaine while living in squalor in the Hollywood Hills, Frusciante put out a couple of solo albums – one of them, he later admitted, just to score drug money.
In the meantime, his former bandmates soldiered on. Frusciante was airbrushed out of the band's Rolling Stone magazine cover and replaced him with Arik Marshall when the Chilis headlined Lollapalooza in 1992 and made subsequent Blood Sugar Sex Magik videos. The band eventually regrouped with former Jane's Addiction player Dave Navarro for 1995's One Hot Minute before that version of the Peppers imploded.
In 1998, Frusciante finally got clean, narrowly avoiding a possibly fatal infection as a result of his unhealthy lifestyle. On the verge of disbanding, Flea, Kiedis and Smith invited the newly sober guitarist back into the band. He accepted and the Chilis set to work making Californication. Frusciante's second tenure would include three albums and continue until 2009, when he quit the band again. He doesn't seem to view his time in the group fondly.
"Something about the impact of the first couple of years of being in the band, when I was 20 … I became extremely unhappy with my songwriting, unhappy with my guitar playing, unhappy being in the band, it was miserable for me," he said in 2014. "That's how I know, from that experience of the first couple years that I was in the band, I know that it's not my privilege of music as something that's there to serve me. If I think of it that way, if I think, 'I want people to think of me this way' or 'I want people to think of me that way' so I'm gonna do this musical task and this musical task, I would've just killed myself or something."
Red Hot Chili Peppers Lineup Changes: A Complete Guide
More From The Moose 94.7 FM