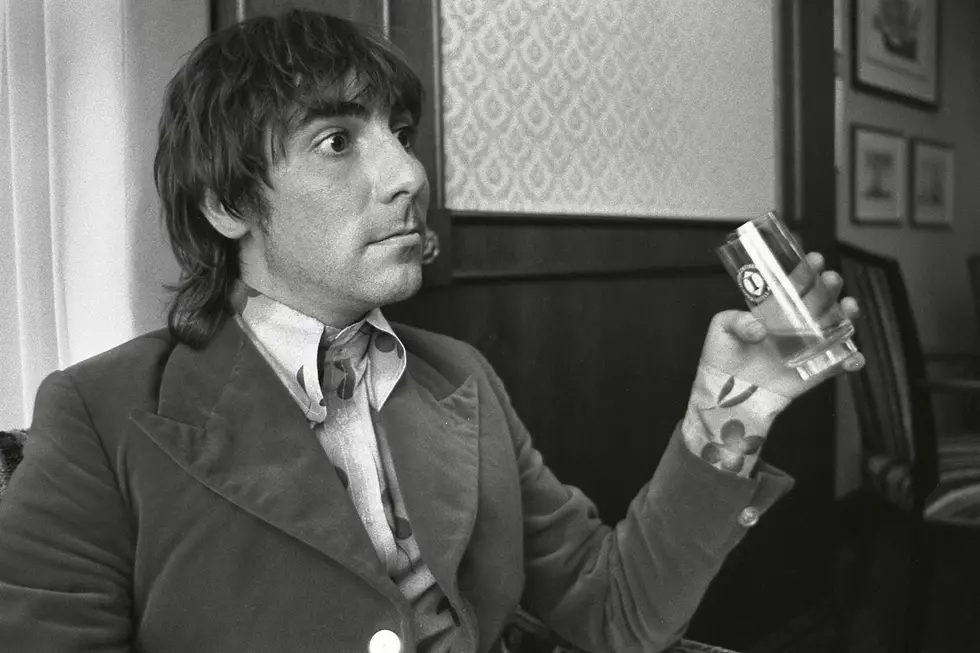 50 Years Ago: Keith Moon Hospitalized After Trashing Another Hotel Room
K & K Ulf Kruger OHG, Getty Images
When Keith Moon was bundled into a Miami ambulance on Aug. 11, 1968, it was for his second stay in a U.S. hospital that year. As his life moved towards its tragic close just two years in the future, it appeared that the larger-than-life Who drummer was never going to learn his lesson.
In March of '68 he'd collapsed in front of 15,000 fans in Boston, just after the show had begun. The incident had been blamed on the flu – it was only later that "a near-lethal intake of brandy and barbiturates" was given as the real reason. The following night he'd ended up in hospital after trashing his hotel room in an incident that reportedly would have seen him bleed to death without the intervention of manager Bill Curbishley. Neither the overdosing nor the room-trashing were novel incidents in Moon's life, of course; and three years earlier he'd collapsed on stage after taking horse tranquillizers, and had to be replaced by a fan from the crowd.
The Miami incident began with another room-trashing at the Fontainebleau Hotel, leading staff to call the police. Rolling Stone reported that the call had gone out as a "41 Baker" – the number indicating illness or injury, the word meaning "mentally disturbed." By the time cops arrived he'd collapsed after spending some time in a "very agitated state." No shows were cancelled on this occasion, because the Who had already completed a four-date "whirlwind" U.S. visit.
"I'm fine," Moon told a D.J. from his hospital bed five days later. "I don't really remember much about it. I felt dizzy… and I just blacked out and woke up here. They said it was a breakdown… from overwork, pressure, just getting wound up over the shows." He added that he'd been working "quite steadily" over the previous two years, adding: "eventually it just catches up with you."
He was released from hospital after an eight-day stay, after which he flew to Los Angeles, saying he had a house to build in Malibu. The Who played a further nine dates in the U.S. in October, despite reported low attendance during the "whirlwind" series. Those October shows were to be Moon's last touring dates with the band, who are reputed to have avoided firing him in 1976, in the belief that it would have only made matters worse for him.
See Who Drummer Keith Moon's Craziest Antics
Who Albums Ranked
More From The Moose 94.7 FM