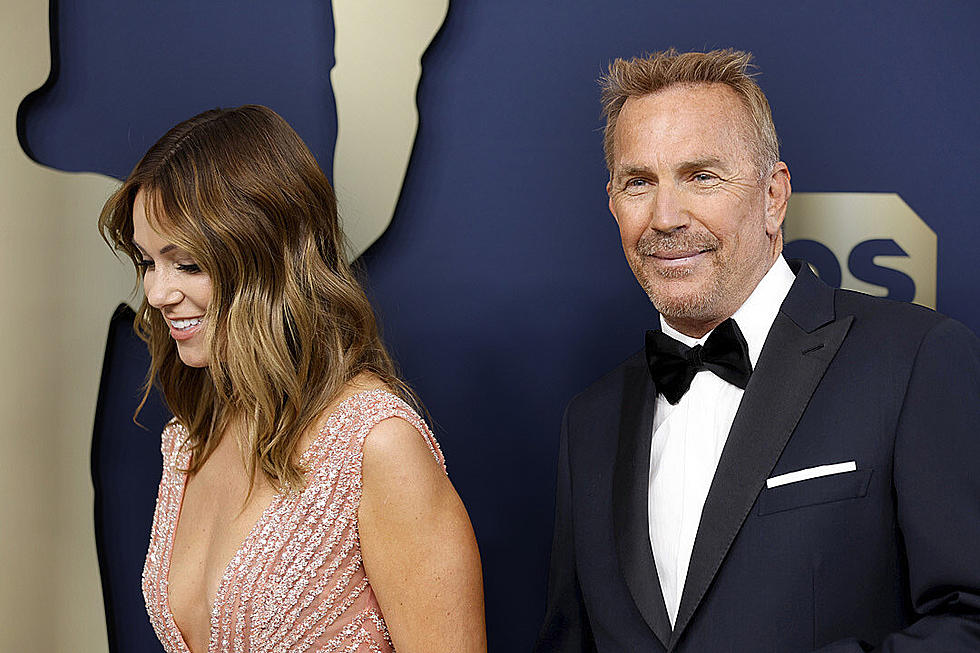 Kevin Costner Claims Estranged Wife Refuses to Move Out Despite Prenup Terms
Getty Images
The divorce between Yellowstone star Kevin Costner and his estranged wife, Christine Baumgartner, is turning more contentious.
In new court documents, the Oscar-winning actor and director accuses Baumgartner of refusing to move out of their marital residence in California despite a pre-marital agreement that states that she must do so.
TMZ obtained Costner's court filing, which states that Baumgartner had 30 days to vacate the house they shared after filing for divorce on May 2, but she has still not left. His filing claims he's already given her $1.2 million under the terms of their prenuptial agreement and that he's paid Baumgartner a total of $1.45 million, which she has access to in order to find another place to live.
According to TMZ, Costner also says he'd be willing to advance $10,000 for his estranged wife's moving costs and pay $30,000 per month toward a rental house as part of his child support obligations. His filing accuses Baumgartner of staying in the house so she can leverage her position to make "various financial demands," and he's asking the court to force her to vacate the residence. Costner claims that he's the sole owner of all three of the former couple's homes under the terms of a prenuptial agreement that dates back to when they married in 2004. They have three children, ages 15, 14 and 12.
A source told People in May that Costner knew Baumgartner was unhappy with his busy schedule as he juggled his role on Yellowstone with directing, producing and starring in his upcoming four-part epic Western, Horizon, but her filing for divorce still caught him off-guard.
Costner has also been in a showdown with the producers of Yellowstone since March over his shooting schedule for the second half of Yellowstone Season 5, which conflicts with his schedule for Horizon. Paramount confirmed on May 5 that Yellowstone will return for the second half of Season 5 in November, and the show will conclude with those episodes. The network's announcement did not address Costner's participation, and sources have said that the show will kill off his character of John Dutton early on in the run of new episodes.
Paramount will launch a new sequel to Yellowstone on the heels of the show ending, with Matthew McConaughey all but confirmed to star alongside some of the original cast members.
As part of Taste of Country's comprehensive coverage of all things Yellowstone, check out our Dutton Rules podcast on Apple Podcasts and Spotify.
PICTURES: See Inside Kevin Costner's Spectacular Colorado Ranch
Yellowstone star Kevin Costner lives the ranch life when he's off the set of the hit show, too. The Oscar-winning actor owns a 160-acre ranch in Aspen, Colo., that's a spectacular getaway, complete with a main residence, a lake house and a river house.
The luxury retreat also features a baseball field, a sledding hill, an ice rink, multiple hot tubs and views of the Continental Divide. The ranch property comfortably sleeps 27 people, and it's currently available to rent for 36,000 a night.
22 'Yellowstone' Facts You Probably Didn't Know
How big of a fan of
Yellowstone
are you? These 22 facts about the Paramount Network show are sure to stump even the most dedicated viewers. They're almost all about the cast members and their real-life passions and roles. John's kids? Beth's accent? Rainwater's guitar playing? Tate's spoilers? It's all part of this list of 22 Facts You Probably Didn't Know About Yellowstone.
More From The Moose 94.7 FM