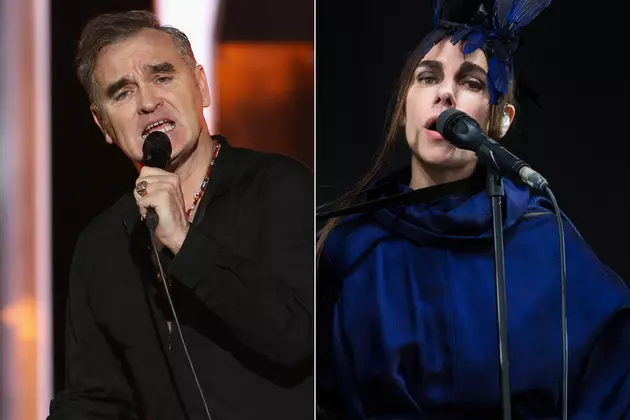 Morrissey Feels He Should Be in the Rock and Roll Hall of Fame Before PJ Harvey
Chris Jackson / Ian Gavan, Getty Images
Many artists — at least publicly — take a nonchalant approach to being considered for induction into the Rock and Roll Hall of Fame, but not Morrissey. In a new interview, he not only suggested that his solo career is worthy of recognition by the Hall, but that he should be nominated before PJ Harvey.
Speaking to Faster Louder, he was asked to comment on the idea of his time in the Smiths overshadowing his solo work, even though it comprised a much shorter period of time. "I've taken the position of serious analyst on this issue for quite some years," he said, "and I now think that the Smiths are listed as, for example, Rock & Roll Hall of Fame nominees, because people generally think that the Smiths also covers Morrissey – which it doesn't. Consequently we have PJ Harvey as a Hall of Fame nominee yet it can't be argued that she has ever meant more than Morrissey in the USA, and needless to say I have never been a nominee."
However, Morrissey is mistaken. Although Harvey was cited by many sources, including us, as a newly eligible and worthy nominee, the Hall did not put her among the 15 acts who comprised the shortlist when it was announced earlier this week. Instead, they gave nods to such alternative acts as Pearl Jam, Depeche Mode, Jane's Addiction and Bad Brains. The Smiths were nominated in both 2015 and 2016.
Morrissey also weighed in on the controversial "Brexit" vote, which saw the people of Great Britain vote to leave the European Union. The singer called the result "magnificent, but it is not accepted by the BBC or Sky News because they object to a public that cannot be hypnotised by BBC or Sky nonsense. These news teams are exactly the same as Fox and CNN in that they all depend on public stupidity in order to create their own myth of reality. Watch them at your peril!"
PJ Harvey Albums Ranked in Order of Awesomeness
More From The Moose 94.7 FM