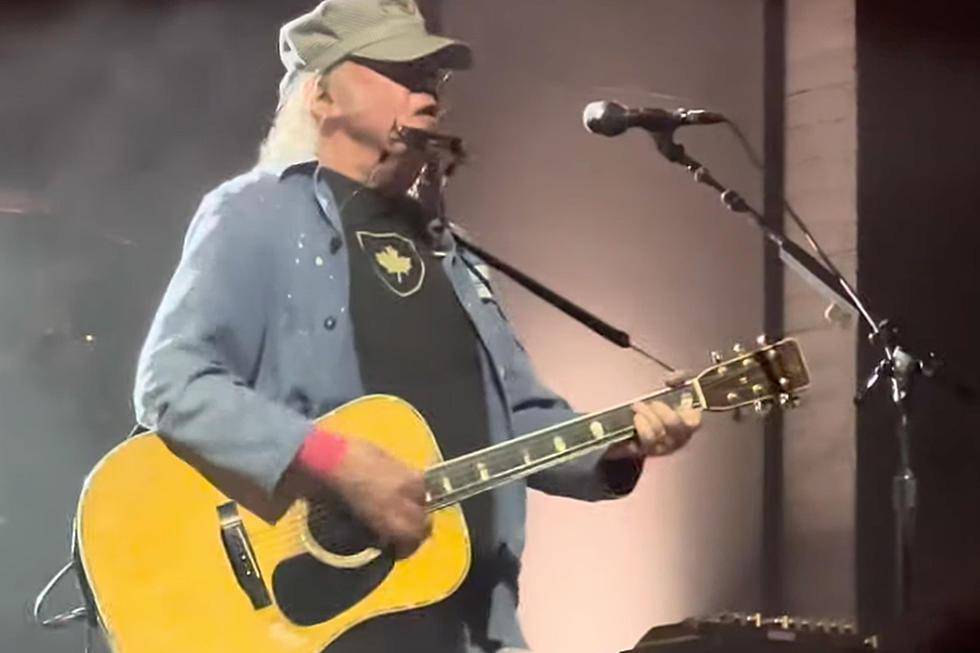 Neil Young Kicks Off First Tour in Four Years: Video, Set List
YouTube
Neil Young launched his first tour since 2019 last night (June 30) in Los Angeles.
He performed a 17-song solo acoustic set at the John Anson Ford Ampitheatre. While career-defining hits such as "Ohio" and "Heart of Gold" were played, the show focused largely on rarer songs such as "I'm the Ocean" and "On the Way Home."
You can see the complete set list and fan-shot videos from the show below.
Young had previously explained that he wanted this solo acoustic tour to focus on songs he hasn't played live. "I don't want to come back and do the same songs again," Young said [via Rolling Stone]. "I'll feel like I was on some sort of carnival ride. I'd rather be doing these other songs I haven't done. ... They are songs that apply to my life right now and apply to everyone's lives in this era that we're in."
Watch Neil Young Perform 'Song X'
Though Young has made a handful of one-off appearances in the last few years, he has not toured since 2019, citing concerns about COVID-19, environmental damage and ticketing practices. "Concert tours are no longer fun," he lamented earlier this year. "Concert tours [are] not what they were."
But Young has also stated that he wants to make his touring process — everything from his merch to the food supplied at venues — as environmentally clean and sustainable as possible. "This is something that's very important to me, if I'm ever going to go out again," he said to The New Yorker last year. "I'm still feeling that out, but if I'm ever going to do it, I want to make sure that everything is clean."
Watch Neil Young Perform 'Heart of Gold'
Young will perform three more nights at John Anson Ford in L.A., followed by a series of shows up and down the West Coast. He's also gearing up for the Aug. 11 release of Chrome Dreams, his long-lost 1977 LP.
Neil Young June 30, 2023 Set List
1. "I'm the Ocean" (From Mirror Ball, 1995)
2. "Homefires" (From Archives Vol. II, 2020)
3. "Burned" (From Buffalo Springfield, 1966)
4. "On the Way Home" (From Last Time Around, 1968)
5. "If You Got Love"
6. "My Heart" (From Sleeps With Angels, 1994)
7. "A Dream That Can Last" (From Sleeps With Angels, 1994)
8. "Song X" (From Mirror Ball, 1995)
9. "Prime of Life" (From Sleeps With Angels, 1994)
10. "When I Hold You in My Arms" (From Are You Passionate?, 2002)
11. "Mother Earth (Natural Anthem)" (From Ragged Glory, 1990)
12. "Ohio" (Crosby, Stills, Nash and Young single, 1970)
13. "Days That Used to Be" (From Ragged Glory, 1990)
14. "Don't Forget Love" (From Barn, 2021)
15. "Heart of Gold" (From Harvest, 1972)
16. "Love Earth" (From World Record, 2022)
17. "Four Strong Winds" (Ian and Sylvia cover)
Neil Young Albums Ranked
Neil Young is one of rock's most brilliant, confounding, defiant and frustrating artists.
More From The Moose 94.7 FM