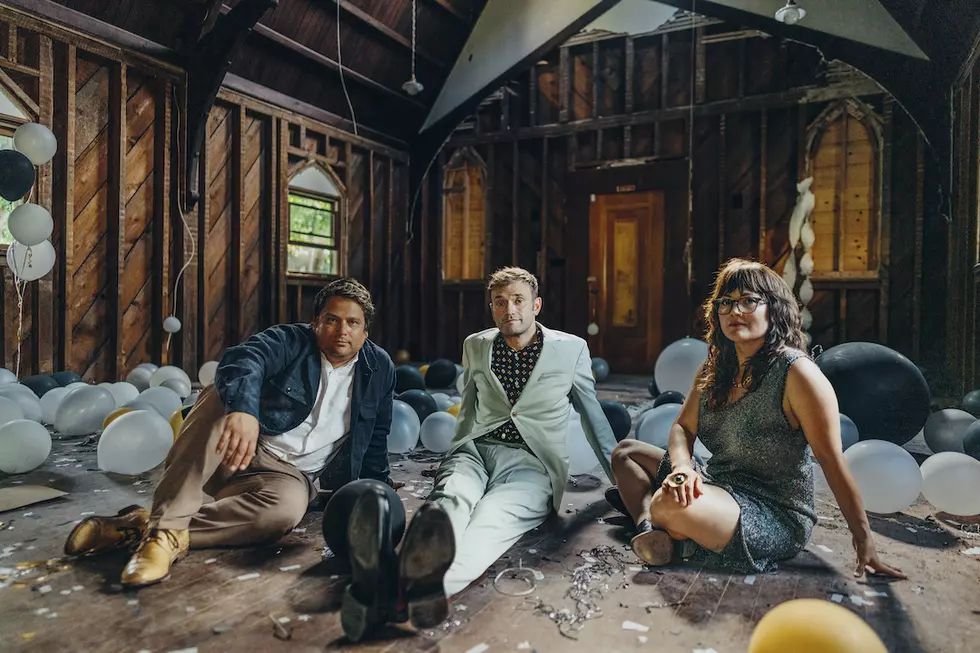 Nickel Creek to Release 'Celebrants,' Their First New Album in Nine Years
Josh Goleman
It's been nearly a decade since award-winning trio Nickel Creek released a new album, but that's all about to change. On March 24, members Chris Thile, Sara Watkins, and Sean Watkins will share Celebrants, their 18-track comeback LP via Thirty Tigers.
The project was recorded at Nashville's historic RCA Studio A and produced by Eric Valentine, who also worked on the band's 2014 record A Dotted Line. The collection of songs is thematically centered around the connections and experiences we all share, including the passage of time and its effects on ever-evolving relationships.
"This is a record about embracing the friction inherent in real human connection. We begin the record yearning for and pursuing harmonious connection," the band explains. "We end the record having realized that truly harmonious connection can only be achieved through the dissonance that we've spent our entire adult lives trying to avoid."
To coincide with the album announcement, Nickel Creek has shared the Celebrants cut "Strangers," which examines the strange dynamic shared between those trying to rebuild a former bond.
"This song is an exploration of the ostensibly rewarding but often awkward, even excruciating act of catching up with an old friend," the trio notes. "Can the connection be reforged? Should it be?"
Nickel Creek will mark the release of their long-awaited fifth studio album with three sold-out performances at Nashville's Ryman Auditorium on April 27, 28, and 29. Additional tour dates in support of Celebrants are expected to be announced in the coming weeks.
You can find more information on the trio's upcoming live shows by visiting Nickel Creek's official website.
Nickel Creek, Celebrants Track List:
1. "Celebrants"
2. "Strangers"
3. "Water Under the Bridge, Part 1"
4. "The Meadow"
5. "Thinnest Wall"
6. "Going Out…"
7. "Holding Pattern"
8. "Where the Long Line Leads"
9. "Goddamned Saint"
10. "Stone's Throw"
11. "Goddamned Saint, Reprise"
12. "From the Beach"
13. "To the Airport"
14. "…Despite the Weather"
15. "Hollywood Ending"
16. "New Blood"
17. "Water Under the Bridge, Part 2"
18. "Failure Isn't Forever"
Top 10 Billy Strings Songs
Billy Strings
is one of those once-in-a-generation artists who revitalize their genre with the scope of their talent and original perspective.
While to some, it may have seemed like Strings appeared on the bluegrass scene suddenly, his connection to the genre was far from new. Strings began playing guitar at five years old, thanks to the influence of his father, Terry Barber. Strings learned the bluegrass songs that were the soundtrack to his rowdy family's life, along with metal and classic rock favorites.
Born and raised in a small town in Michigan, Strings' childhood was marked by difficult losses and hard times as his parents struggled with meth addiction. As a young adult, Strings dealt with his own addiction issues but was later able to find sobriety.
He eventually left home and found his way to Nashville, where he gained his first exposure playing with mandolin player Don Julin. After four years with Julin, Strings went solo. Critical acclaim quickly followed.
From 2016 to 2022, Strings released one EP and four albums. Two of his records, 2019's Home and 2021's Renewal, have been nominated for Grammy Awards, with Home earning the top prize. He has also won an Americana Music Award and numerous International Bluegrass Music Awards, among other significant accolades.
At the young age of 30, Strings has created a remarkable legacy, and we can't wait to see where he goes from here.
More From The Moose 94.7 FM