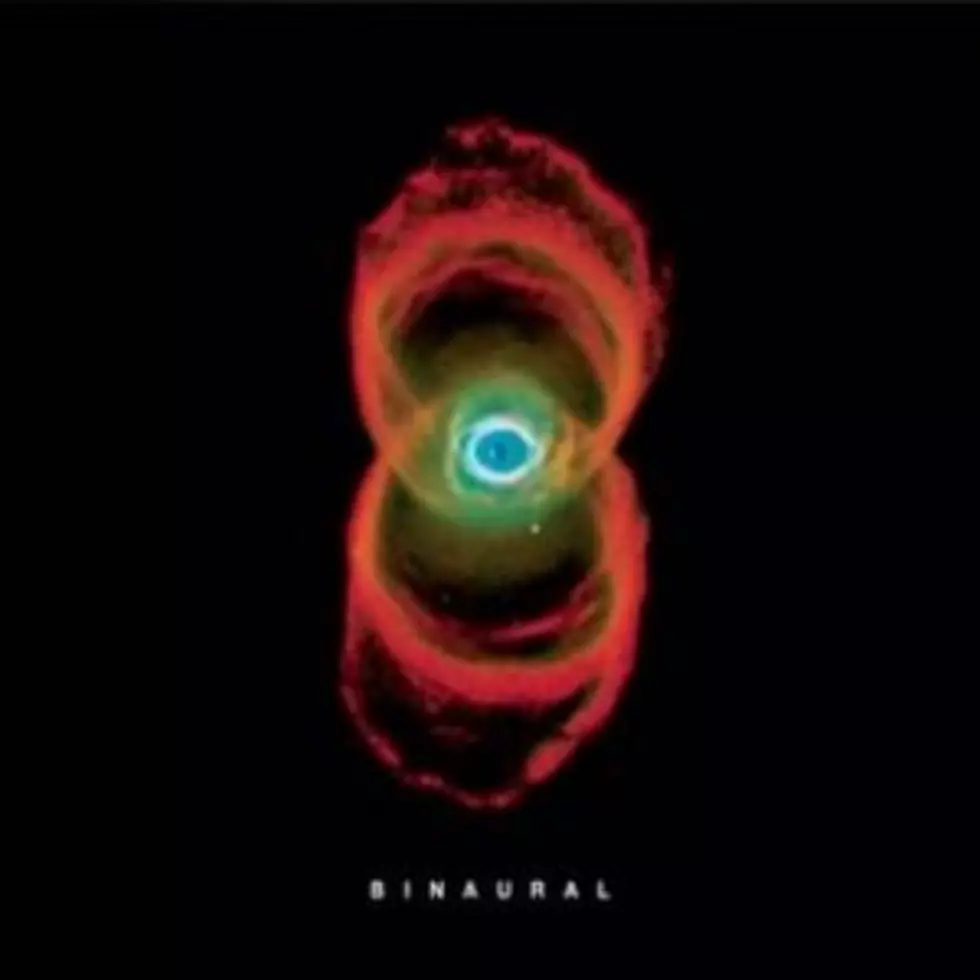 16 Years Ago: Pearl Jam Work Through Their Issues With 'Binaural'
Epic Records
The turn of the millennium found grunge icons Pearl Jam in a very tired state. After the 1998 release of their fifth album, Yield, they spent most of their energy touring. Following a bit of a break, the gang reconvened to begin writing and recording what would become their sixth album, Binaural, which they would release 16 years ago on May 16.
They went into the studio with a new drummer and a new producer. Before the Yield tour, then-drummer Jack Irons left the band due to the vigorous touring schedule. Soundgarden drummer Matt Cameron filled in for the tour, and the sessions for Binaural became his first recording gig with PJ.
The new producer was Tchad Blake, a big proponent of binaural recording, which can produce rich stereo sounds. This would be the first album Pearl Jam recorded without their long-time producer Brendan O'Brien.
Pearl Jam had a difficult time with writing and recording Binaural; to start, guitarist Mike McCready left part way through recording to check himself into rehab for an addiction to prescription medication, and to make matters worse, singer Eddie Vedder found himself mired in writer's block.
He was having a hard time with his vocal duties, both with writing words and developing melodies, so in order to focus on writing lyrics, Vedder banned himself from playing guitar. This led to him picking up a ukelele. On it, he wrote "Soon Forget":
Commercially, Binaural did not perform up to the standards set by all of Pearl Jam's previous albums, despite its debut at the No. 2 spot on the Billboard 200. It was the
first Pearl Jam album that didn't go platinum, and the band only released two singles from it: "Nothing as it Seems" and "Light Years."
Both singles are subdued, almost somber, affairs while "Light Years" is slow, serious and could even be considered heavy. I's a psychedelic tune, full of swirly guitar solos and
dense instrumentation.
The album as a whole is atypically soft-spoken. The rockers are fewer and further between than what fans had come to expect, though, a few songs still warrant turning up, like "Grievance."
Following the album's release, the still road-weary band decided to, well, hit the road, touring first in Europe before returning home for a U.S. run.
Toward the end of the band's stint in Europe, tragedy struck at the Roskilde Festival in Denmark. As Pearl Jam performed, the crowd of around 50,000 people began to crush in on itself. The situation quickly became dire, and security tried to get word to Pearl Jam to stop playing.
Once they heard there was a problem, they stopped playing immediately, and Vedder asked everyone in the crowd to take three steps back.
Unfortunately, though, nine fans lost their lives. The situation wasn't Pearl Jam's fault; anyone could have been playing when this happened. It still, understandably, had a tremendous effect on the band members, though.
Vedder told Q magazine in 2011 how the incident stuck with him and the rest of the band:
If I remember correctly, I think Stone was the one who maybe thought we shouldn't continue. I think if it was an issue that went right to us, or something we did, or our security or whatever, then that would've been harder, I don't know if we'd have been able to keep going. But there was kind of nothing we could've done about it. I'm also grateful to Pete [Townshend] and Roger [Daltrey] and Tom Waits, the people that reached out, cos I was in a f---in' fetal position the day after.
Following the tour, PJ released bootleg recordings of each live show they played on the road. This led to them setting records for the number of album releases that debuted on the Billboard Top 200.
While Binaural may never be considered a staple in Pearl Jam's catalog, it is a direct connection between Yield and Riot Act, showing the band's constant evolution from album-to-album, an important part of its history ... and for that reason alone, it's worth revisiting, 15 years later.
Worst to First: Every Pearl Jam Album Ranked
More From The Moose 94.7 FM