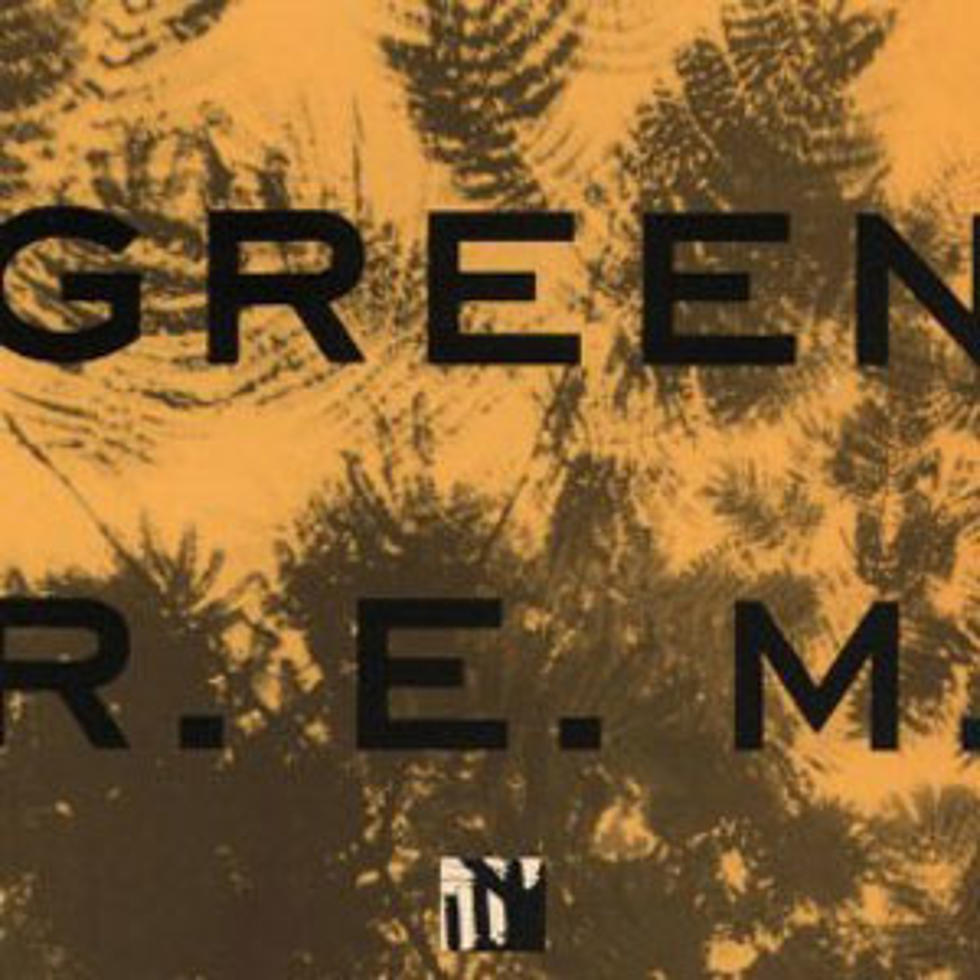 R.E.M. Announce 25th Anniversary Edition of 'Green' + Record Store Day EP
Warner Bros.
Twenty-five years ago, R.E.M. unveiled their sixth studio effort, 'Green,' which included such well-known hits as 'Pop Song 89,' 'Stand' and 'Orange Crush.' The 1988 album gained worldwide acclaim and arguably became the defining record of their career. Now, the band has announced plans to release a special 25th anniversary edition of album, along with an exclusive live EP.
The two-disc set – scheduled for a May 14 release via Rhino – features a remastered version of the original album, along with a series of live performances from the second-to-last show of R.E.M.'s Green World Tour, which took place in Greensboro, N.C. The record will also be available on vinyl, complete with original artwork and packaging.
Additionally, R.E.M. are gearing up to drop a limited edition five-song EP on April 20 in honor of Record Store Day. The collection showcases a handful of tracks from their aforementioned Greensboro show that didn't fit in the deluxe package. Only 2,500 copies of the disc will be made available, and each one comes with an original patch from their world tour, plucked directly from the band's vault. Click here for additional details.
'Green:' 25th Anniversary Deluxe Edition Track Listing
Disc One: 'Green' Remastered

1. 'Pop Song 89'
2. 'Get Up'
3. 'You Are the Everything'
4. 'Stand'
5. 'World Leader Pretend'
6. 'The Wrong Child'
7. 'Orange Crush'
8. 'Turn You Inside Out'
9. 'Hairshirt'
10. 'I Remember California'
11. 'Untitled'
Disc Two: 'Live in Greensboro 1989'
1. 'Stand'
2. 'The One I Love'
3. 'Turn You Inside Out'
4. 'Belong'
5. 'Exhuming McCarthy'
6. 'Good Advices'
7. 'Orange Crush'
8. 'Cuyahoga'
9. 'These Days'
10. 'World Leader Pretend'
11. 'I Believe'
12. 'Get Up'
13. 'Life and How to Live It'
14. 'Its the End of the World as We Know It (And I Feel Fine)'
15. 'Pop Song 89'
16. 'Fall On Me'
17. 'You Are the Everything'
18. 'Begin the Begin'
19. 'Low'
20. 'Finest Worksong'
21. 'Perfect Circle'
'Live in Greensboro' EP Track Listing
1. 'So. Central Rain (I'm Sorry)'
2. 'Feeling Gravitys Pull'
3. 'Strange'
4. 'King of Birds'
5. 'I Remember California'