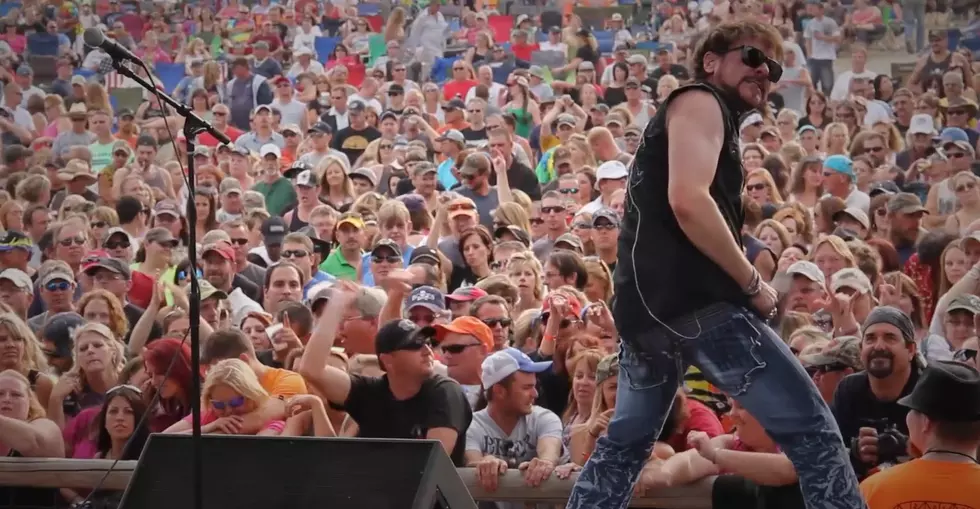 Rockin' the Rivers 2022: 25 Things You Need to Know
Rockin the Rivers - Outlaw Partners VIMEO
The fields will rock near The Bridge on the Jefferson River this weekend just outside of Three Forks as Rockin' the Rivers 2022 gets underway. Make sure you have the most fun.
If you're spending the weekend or just going for the day, there are things that can make your Rockin' the Rivers experience better. The location is rural, outside of Three Forks by several miles, so it's best to be prepared.
SEE THE FULL MUSIC LINEUP FOR THE 2022 ROCKIN' THE RIVERS HERE
WHAT: Rockin' the Rivers 2022
WHERE: At The Bridge Near Three Forks, Montana
WHEN: Thursday, August 11th to Saturday, August 13th, 2022
WHO: Daughtry, Extreme, Don Felder, Jefferson Starship, Buckcherry, Scott Stapp of Creed, Vixen, Quiet Riot, Dorothy, and many more.
TICKETS: All tickets will be available at the gate but you'll save time by purchasing in advance. Kids 12 and under are FREE.
VIP tickets are available for purchase in advance or you can upgrade at the gate. VIP Ticket Includes:
- BEER (all you can drink!)
- Pop & Water (all you can drink!)
- Private entrance to Bar
- Close to stage
- SHADE
- MISTERS to keep cool
- SEATING (limited but you can bring your own)
Tickets, campsites, and additional parking passes will all be sold separately to allow you flexible package building (this is new this year)
INFORMATION ABOUT ARRIVAL: WEDNESDAY from Noon-10PM: Is only for campers with PREPAID camping spots and tickets only!! This will be STRICTLY enforced. NO extra vehicles will be allowed without a prepaid extra vehicle pass.
You will be turned away until Thursday if you do not have the prepaid passes.
THURSDAY: Gates open at 8am. Both the main gate and day gate will be open 8am Thursday morning.
They will be selling tickets and camp passes and exchanging tickets for wristbands.
Make sure you have your camping passes and tickets before arriving. If you don't have camp passes you will need to wait until Thursday to bring in your camper.
PRO TIPS: Sunblock, lots of water and layered clothing. The weather is unpredictable out there and storms can roll in. A lightweight rain jacket might seem like a pain...until you really need it. That sun can be brutal so make sure you take in enough water, even if you don't have to drive anywhere and are staying the night. Be good to your body so you can enjoy the whole weekend!
CAMPING OPTIONS: You can bring your RV, camper, vehicle or tent. Rockin' the Rivers has many options to allow you to stay on-site and enjoy the weekend safely. Just make sure you purchase the appropriate camping pass.
Self-contained propane grills are allowed in the campsite area only and must be under constant supervision. No charcoal grills allowed.
SEE THE CAMPGROUND 1 MAP HERE (each section is clearly marked and you can zoom in and out on this particular map. Consider printing this one before you head out to the venue for easy travels around the grounds)
THE FLATS CAMPGROUND: Free shuttle provided to arena entrance 10am until 2am. Campground quiet time begins at 3:00 a.m. and is strictly enforced. Please report violators to security.
A small store run by a local business will be located outside the arena. They will provide camping supplies and other essentials.
Hot showers are available for $5; please bring your own towel.
ATMs are set up inside the arena.
There is extremely limited seating and shade inside the 40x80 foot beer garden. Lawn Chairs and the like are allowed inside the arena. All bags subject to search.
Food Vendors and merchandise vendors are set up inside the arena. No unauthorized vending is allowed either inside or outside the arena.
VISIT THE FAQ PAGE FOR ROCKIN' THE RIVERS HERE! (It's super helpful and worth your time to read through it!)
4 U.S. Cities Giving Away Land, Try These States Before Idaho
More From The Moose 94.7 FM