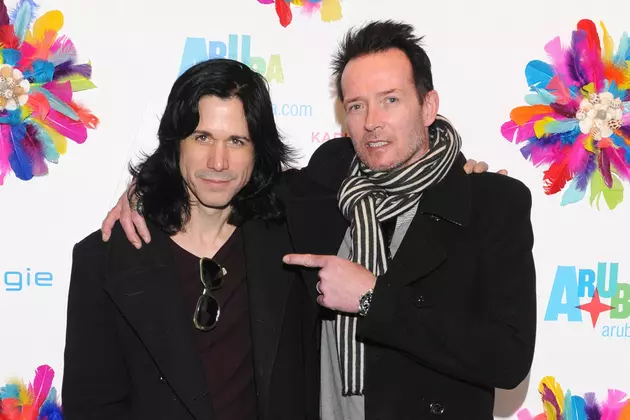 Scott Weiland Remembered by Wildabouts Bassist Tommy Black
Vivien Killilea, Getty Images
A year after the death of former Stone Temple Pilots frontman Scott Weiland, Tommy Black, who played bass in Weiland's backing band the Wildabouts, is opening up. In a new interview, Black focused on the better aspects on his friend and took exception to the press' portrayal of Weiland as an out-of-control drug abuser.
"Scott was a positive, loving, cool, badass person," he told Yahoo! Music. ""We would just have fun, like getting excited about music, talking about different bands and pulling up songs on our phones. And he loved paintball! He could be a big goofball sometimes. People only want to report the bad stuff, but Scott loved life. He had a very dry wit and he was very intelligent, and we were similar ages and came from similar backgrounds and even from similar areas, so we connected a lot on that level."
Weiland died on Dec. 3, 2015 of a drug overdose while on his tour bus during a stop in Bloomington, Minn. As police searched the bus in the immediate aftermath of his death, they found a small bag of cocaine. Black was arrested on charges of drug possession; however, the charges were dropped when the police concluded that they couldn't prove that the drugs were Black's.
"It kind of sucks that that's the first thing that going to come up on a Google search for my name for the rest of my life," Black continued, while remembering the events after finding out Weiland had died. "I just got drunk when I heard the news. I went next door and had a few shots, unfortunately. And the detectives came to question us — they question everybody when somebody dies on a tour bus. They're questioning me and they told me the next day, 'We had to detain you, because you [were too inebriated] to really be able to answer questions, and we didn't want you to leave the next morning.' And then, you know, the media runs with that, so it had a bad spin on it. And that sucked, because that's not the way it was. It hurt me at the time, but I understand. Everybody wants an answer. Everybody wants to blame somebody."
Black chose to honor Weiland during Thanksgiving by calling up his widow, Jamie, and getting his recipe for turkey, something the singer took pride in. "At Thanksgiving, he would cook the turkey. He was a real good cook, and he took the cooking of the turkey really seriously… He just loved family and holidays. He was a very nostalgic guy about that sort of stuff."
Every Stone Temple Pilots Album Ranked
More From The Moose 94.7 FM