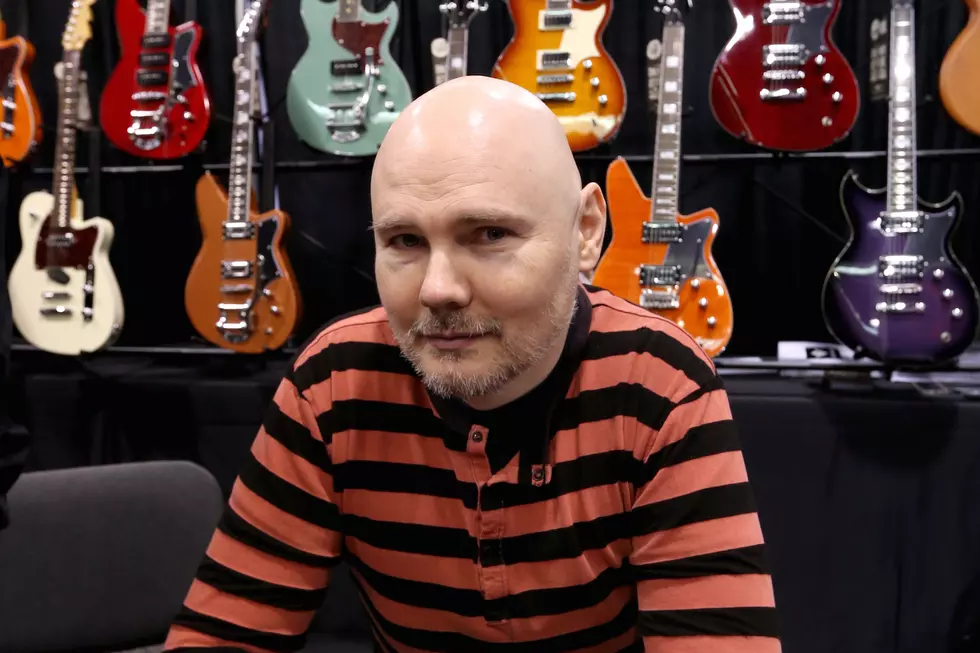 Smashing Pumpkins Start Countdown to Thursday Announcement
Jesse Grant, Getty Images
Corgan himself has also added to the mystery, getting the word out via some large Smashing Pumpkins signage in a busy New York thoroughfare featuring the band's logo and the date "2-15-18." The singer accompanied a shot of the visual tease with a Yeats quote, "But I, being poor, have only my dreams; I have spread my dreams under your feet; tread softly because you tread on my dreamed" through his Instagram.
While we do know that Corgan has been working on a wealth of new music in the studio, with the singer recently teasing he had "26 Songs in various states of completion, production, insanity," it's not a given that the announcement is regarding new music, especially as the singer just wrapped his time in the studio.
The announcement could concern touring, with perhaps a nod to the past. Recent social media posts have shown a pair of grown women sporting wings, with fans speculating that it's the two young girls from the Siamese Dream album cover now grown. That album turns 25 this year.
Smashing Pumpkins have also taken to the streets of New York and Los Angeles with a truck trolling the streets that appears similar in shape to the ice cream truck from the "Today" video. Those posting a photo of said truck on Instagram or Twitter using the hashtags #SP2018 #entry apparently have a chance to win something special from Yamaha Guitars. So the promotional buzz for Smashing Pumpkins' 2018 plans is definitely growing.
What will Thursday's announcement be? You'll have to wait to find out. Stay tuned.
Smashing Pumpkins Albums Ranked
More From The Moose 94.7 FM