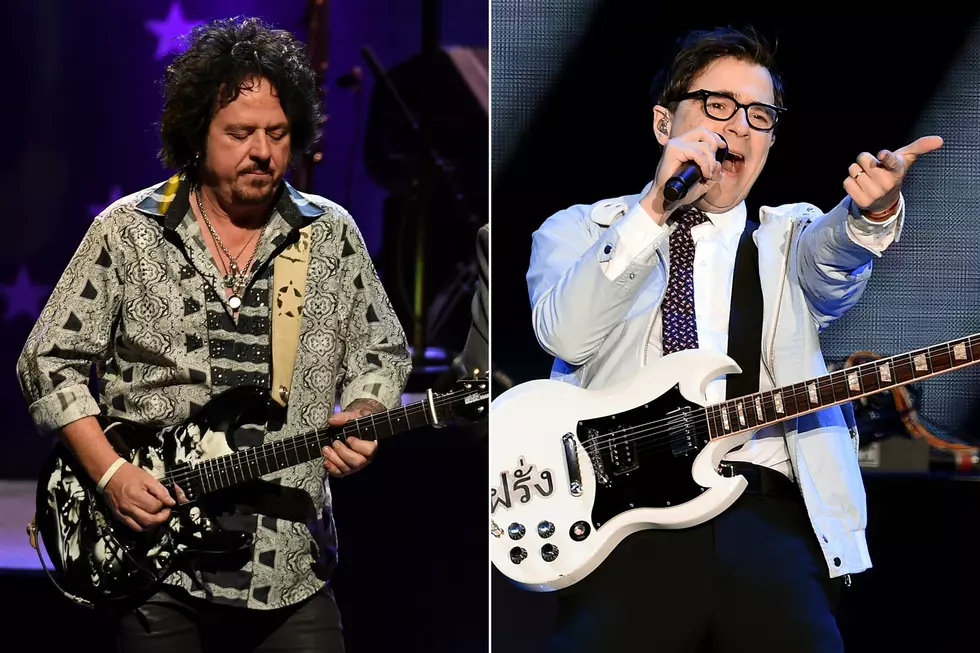 Toto Has Covered Weezer's 'Hash Pipe'
Kevin Winter / Ethan Miller, Getty Images
Only two days after a pair of Los Angeles DJs speculated on the idea of Toto covering a Weezer song as payback for the alternative band's version of "Africa," the men have gotten their wish. Toto members Steve Lukather and Steve Porcaro stopped by the station to discuss their take on Weezer's 2001 hit "Hash Pipe," which they expect to release in the next few weeks.
As Porcaro explained on Stryker and Klein's afternoon show on KROQ, it had been in the works long before the duo discussed it the other day. "We had just gotten back from the road," he began. "But I was here, home, in my studio, where I'm happiest, and I saw all this action going on with 'Africa' -- they had released 'Rosanna,' they did 'Africa.' I sent Luke an e-mail one the road -- he was in Europe -- I said, "Come on. We gotta return the favor. Let's pick out a tune and send it right back to 'em."
From there, it took a bit of debate to figure out which song they wanted to record. "You know, we listened to 'Beverly Hills,'" he continued. "I wanted to maybe even do a real 'Africa'-type version of that, I was thinking about for a minute. But you know what? We wanted to make it different, but we wanted to do something rock n' roll. I wanted to show everyone what a good rock n' roll band we can be. I love the band. I love their music. [Lead singer] Joseph [Williams] and I were listening to different ones trying to figure out which ones he'd like to sing and we settled on 'Hash Pipe.'"
"I thought 'Hash Pipe' had a better melody," Lukather added. "I love the message, you know what I mean? ... And we wanted to do it justice. We wanted to do our thing to it, but still pay respect to it. And we added a couple of our kitschy little things to it, which I hope that they laugh [at]. We wish we could be in the room when they hear it."
Weezer's cover, which happened as a result of a teenage fan's social media campaign, has led to a mutual admiration society between the two bands, with Porcaro sitting in with Weezer on Jimmy Kimmel Live! Lukather is hoping that it extends down to their respective fanbases.
"We love the thought of maybe some Weezer fans checking out Toto a little deeper," he said, "and, you know what? At the same time, I love the thought of maybe some snooty Toto fans checking out Weezer, loosening their wigs a little bit and enjoying some good rock and roll."
Listen to Steve Lukather and Steve Porcaro Discuss Weezer
More From The Moose 94.7 FM