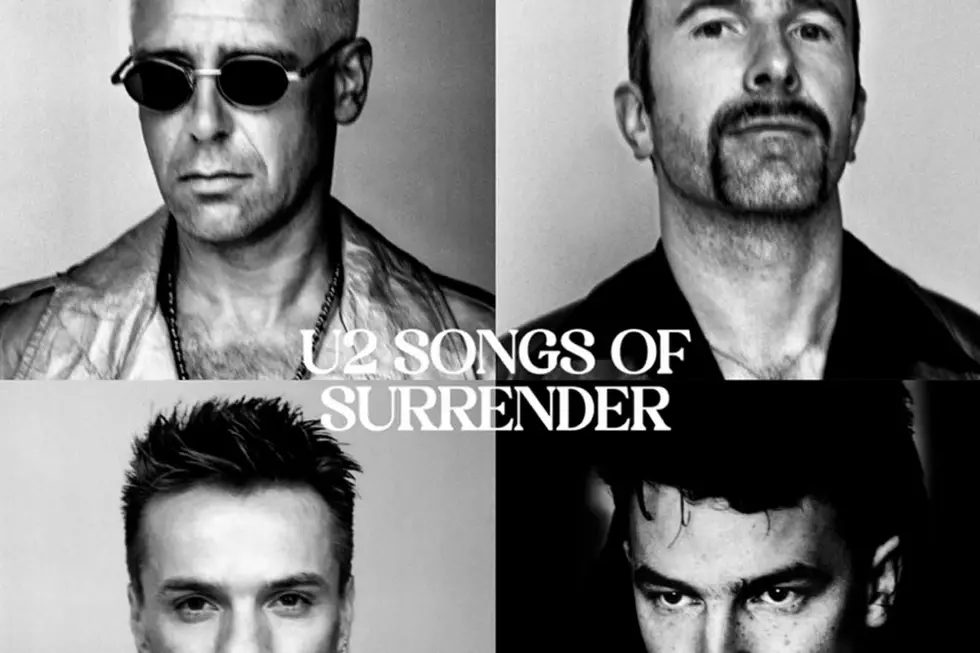 U2 Announces 'Songs of Surrender' Album
Interscope
U2 has officially announced Songs of Surrender, a new album featuring reinterpretations of 40 classic songs from their catalog.
Songs of Surrender arrives on St. Patrick's Day, March 17. You can see the track listing below, along with a lyric video for the song "Pride (In the Name of Love)."
"Music allows you to time travel, and we became curious to find out what it would be like to bring our early songs back with us to the present day and give them the benefit, or otherwise, of a 21st-century re-imagining," guitarist the Edge said in a statement. "What started out as an experiment quickly developed into a personal obsession as so many of our songs yielded to a new interpretation. Intimacy replaced post-punk urgency. New tempos, new keys, and in some cases new chords and new lyrics arrived. A great song, it turns out is kind of indestructible."
The band shared a trailer for the new album. You can watch it below.
The album was hinted at earlier this week as fans began posting handwritten letters by the Edge, who noted the imminent announcement of the record.
"The process of selecting which songs to revisit started with a series of demos," the Edge noted. "I looked at how a song would hang together if all but the bare essential elements were taken away. The other main aim was to find ways to bring intimacy into the songs, as most of them were originally written with live-concert performance in mind. Reviewing these sketch recordings with producer Bob Ezrin, it was very easy to see the ones that worked straight off the bat and those that needed more work. We all got into the sensibility of less is more. With Songs of Surrender, the band hopes to bring their classic tunes "to the present day and give them the benefit or otherwise of a 21st-century reimagining."
U2 has not announced touring plans for 2023, though singer Bono will do a run of shows supporting Surrender: 40 Songs, One Story at New York's Beacon Theatre beginning April 16. Drummer Larry Mullen previously reported that he would not be joining the rest of the band on the road, should they choose to tour this year.
U2, 'Songs of Surrender' Track Listing
Side 1 – The Edge
1. One
2. Where The Streets Have No Name
3. Stories For Boys
4. 11 O'Clock Tick Tock
5. Out Of Control
6. Beautiful Day
7. Bad
8. Every Breaking Wave
9. Walk On (Ukraine)
10. Pride (In The Name Of Love)
Side 2 - Larry
1. Who's Gonna Ride Your Wild Horses
2. Get Out Of Your Own Way
3. Stuck In A Moment You Can't Get Out Of
4. Red Hill Mining Town
5. Ordinary Love
6. Sometimes You Can't Make It On Your Own
7. Invisible
8. Dirty Day
9. The Miracle Of Joey Ramone
10. City Of Blinding Lights
Side 3 - Adam
1. Vertigo
2. I Still Haven't Found What I'm Looking For
3. Electrical Storm
4. The Fly
5. If God Will Send His Angels
6. Desire
7. Until The End Of The World
8. Song For Someone
9. All I Want Is You
10. Peace On Earth
Side 4 - Bono
1. With Or Without You
2. Stay
3. Sunday Bloody Sunday
4. Lights Of Home
5. Cedarwood Road
6. I Will Follow
7. Two Hearts Beat As One
8. Miracle Drug
9. The Little Things That Give You Away
10. 40
U2 Albums Ranked
U2 don't inspire weak reactions in people. There are passionate U2 fans, and passionate U2 haters, and very little in between.
More From The Moose 94.7 FM