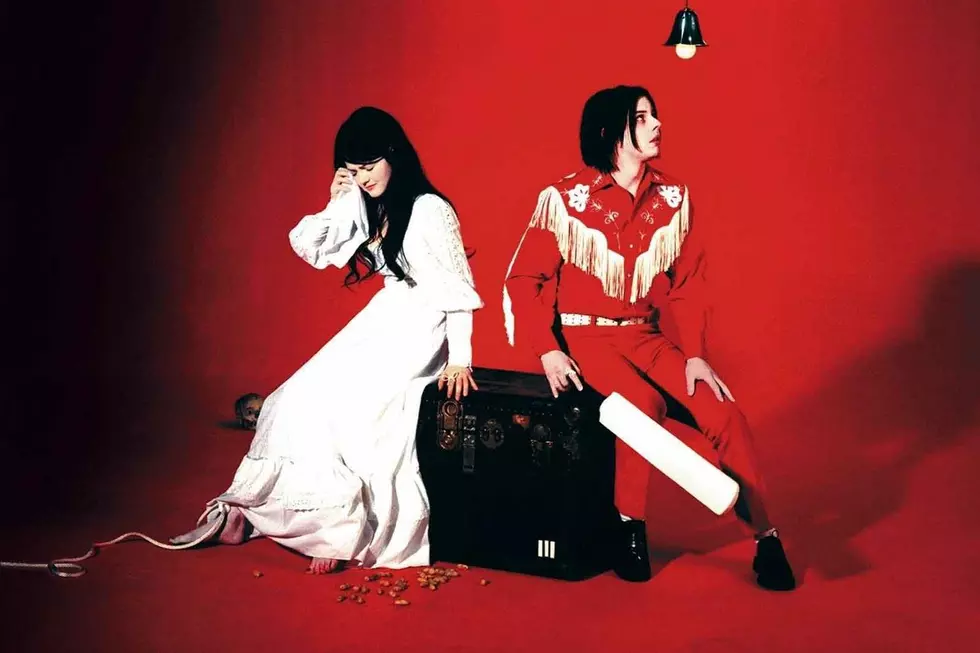 20 Years Ago: The White Stripes Spark a Rock Revolution on 'Elephant'
V2 / XL / Third Man
What happened to the White Stripes at the top of the new century wasn't supposed to happen.
As the '90s turned into the '00s, the guitar-fronted bands that were still left at that point seemed to disappear from radio playlists almost overnight. The ones who weren't dissolved or wrecked by drugs were barely holding on as Y2K fever gripped the planet. And then snap! They were all replaced by boy bands and pop-leaning hip-hop collaborations. Good luck finding a guitar on the radio in 2000.
Then in July 2001, the White Striped released their third album, White Blood Cells. While it wasn't a massive chart hit – the LP peaked at No. 61 on Billboard, and its single "Fell in Love With a Girl" just missed the Top 10 on the alternative airplay ranking – White Blood Cells sparked enough interest in both the Detroit-based duo of Jack and Meg White and other guitar-based garage bands of the new millennium that a mini-revolution was beginning to stir.
By the time the White Stripes released their follow-up album Elephant on April 1, 2003, the revolution was in full effect thanks to bands like the Black Keys, Kings of Leon and the Strokes. It wasn't long before the White Stripes were leading the charge. The Strokes' Is This It was a critical favorite and helped lead the garage-rock revival, but it wasn't a huge commercial hit, stalling at No. 33 in the U.S. (The album was released in the U.K. in July 2001; its U.S. release was delayed until early October, a month after 9/11.) Elephant, however, quickly shot to No. 6.
Watch the White Stripes' 'Seven Nation Army' Video
Recording of the album took place in London over two weeks in April 2002, right after the White Stripes wrapped up a sold-out U.S. tour in support of White Blood Cells and right before they played a pair of shows in the U.K. (Elephant's closing track, "Well It's True That We Love One Another," was recorded earlier in November 2001 with British singer-songwriter Holly Golightly sharing vocals with Jack White.)
They didn't stray far from the winning template from White Blood Cells: recorded quickly with Jack White handling vocals, guitars and piano, Meg playing drums and Jack producing. All but one of the 14 songs were written (or co-written, in one instance) by Jack White: A cover of Burt Bacharach and Hal David's "I Just Don't Know What to Do With Myself," a staple of the White Stripes' live sets, was also included.
The results were as immediate as they were eye-opening. "How can two people make so much noise?" was a common question as fans scanned the LP's credits searching for clues. The White Stripes not only became rock 'n' roll saviors during the era of watered-down pop songs, but Jack White also emerged as a new guitar hero, a next-generation successor to Jimmy Page's frenzied take on the blues. (It's not by mere chance that White appeared alongside Page and U2's the Edge in the 2008 guitar heroes documentary It Might Get Loud.)
Watch the White Stripes' 'The Hardest Button to Button' Video
These updated blues riffs followed old patterns. Jack White was schooled in the genre and adapted it to his electric hard-rock fury. Even the spare (by White Stripes' already-spare standards) cover of "I Don't Know What to Do With Myself" – made famous by Bacharach favorites Dusty Springfield and Dionne Warwick in the mid-'60s – sounds like a blues number here.
But it's on the originals where White turns loose. The seven-minute "Ball and Biscuit" soon became a concert showcase and has remained a highlight of Jack White's solo sets. "The Hardest Button to Button" is tight alt-rock rooted in the garage; so is "There's No Home for You Here" but slightly messier and more experimental in structure. (White once said the song was the Stripes' attempt "to see how far we could go with an 8-track recorder, and I think how far we went is too far.")
Then there's "Seven Nation Army," the first of Elephant's four singles, released two months earlier and the defining song of White's and the White Stripes' careers. The album starts with the track and its monster riff, which White originally wrote as a James Bond theme, just in case he was ever asked to write one. (He got his chance five years later when he wrote and performed "Another Way to Die" with Alicia Keys for Quantum of Solace.) "Seven Nation Army" propelled the White Stripes into another stratosphere.
For a brief period in the early to mid-'00s, guitar-based rock music was popular again – and much of that has to do with the White Stripes and Elephant. The duo's next and last two albums – 2005's Get Behind Me Satan and 2007's Icky Thump – both charted higher (Nos. 3 and 2, respectively), but Elephant remains their masterpiece and bestselling LP. The White Stripes broke up in 2011, and Jack White's first three solo albums –  Blunderbuss (2012), Lazaretto (2014) and Boarding House Reach (2018) – all reached No. 1, extending the expiration date on music that was pushed to the fringes and left for dead back when the century turned.
Jack White Albums Ranked
Jack White's solo, White Stripes, Raconteurs and Dead Weather albums ranked.
Odd Couples: Jack White and Alicia Keys
More From The Moose 94.7 FM