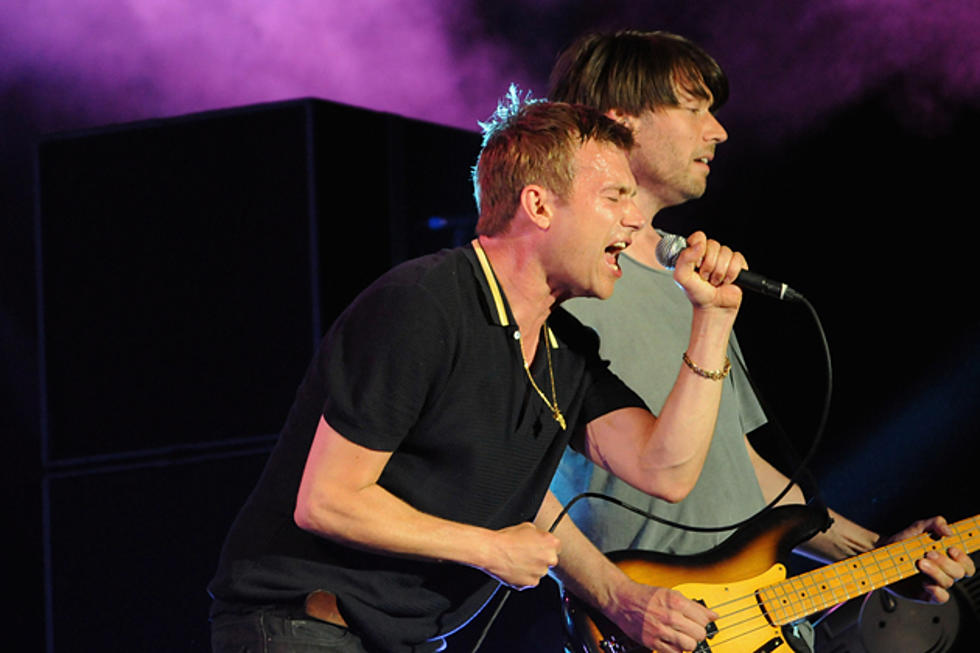 14 Facts You Probably Didn't Know About Blur
Jim Dyson, Getty Images
Blur once sat atop the throne of British pop royalty and seemed poised to take over the rest of the world. Life seemed like peaches and cream for this British rock quartet after their third album, Parklife, became a huge hit. But after 2003's Think Tank, Blur quickly and quietly went dark.
A reunion tour in 2009 gave some life to the hope for another album. Fast forward six years to now and that hope has finally come to fruition. To commemorate the announcement that Blur will release their next album, The Magic Whip, on April 27, we've put together a list of some interesting Blur trivia for your enjoyment.
1

Before they called themselves Blur, the band went by the name Seymour.

2

Singer Damon Albarn was born to be a popular frontman. His high school music teacher said he and guitarist Graham Coxon once put on a show at school, performing their own songs. "Damon had real charisma. That was when he started being screamed at by the girls."

3

Success caused Albarn panic attacks. Producer Stephen Street told The Guardian, "Damon started to have panic attacks; there was something about the whole pop star thing that was getting to him at a level he didn't understand. They were a hugely successful pop band but internally there were stresses about what kind of band they wanted to be."

Jason Merritt, Getty Images

Jason Merritt, Getty Images

4

Don't mess with Blur's cheese. Britpop band Sleeper was opening for Blur on tour when they decided to trash the band's cheese plate for a laugh. The fellows weren't so happy about this and didn't speak to the Sleeper members for days. Singer Louise Wener told the Guardian, "It seemed you could get away with almost any level of drunken and boorish behaviour on tour, but heaven help you if you messed with their cheese plate."

5

Speaking of cheese, bassist Alex James is known to be quite the fromager. That is, he makes his own cheese.

6

James claimed he only joined Blur because Damon had access to free studio time. "I thought he was a bit of a wanker," he said, "but he had the keys to a recording studio."

7

Blur's breakout album 'Parklife' was almost titled 'Soft Porn.' It may not have sold quite as well with that name. But then again, maybe it would have sold even better.

8

The sexy redhead sitting on the car hood in the music video for the title track from 'Parklife' is none other than Alex James.

9

The cover of 'Parklife' became one of 10 classic British albums memorialized on British stamps in 2010.

10

David Balfe, owner of Blur's label, Food Records, said of releasing 'Parklife,' "This is a mistake." Tired of the grunge scene that dominated music at the time, Balfe sold the label to EMI and moved to the country.

11

When Balfe heard Blur's song "Country House," he knew it was about him, but he wasn't entirely insulted. "Though the song is obviously not full of praise, it's still incredibly flattering... I've never discussed it with Damon, it would be too uncool. But the lines "Professional cynic but my heart's not in it, I'm paying the price of living life to the limit", they ring very true."

12

While they were around for the grunge movement, they never really fit in with that lot. Blur's then press officer Karen Johnson recounted looking for Blur's dressing room after a big show. "... in Dinosaur Jr's, there was nobody; in the Mary Chain's, there were three or four people sitting around with big hair; in My Bloody Valentine's, there were a few whispers in the corner and then I opened the door to Blur's and the noise was just incredible. There was loads of smoke, beers, millions of people milling around like a big party - that was the contrast, that summed them up, they were very accessible, full of energy."

13

"Song 2" is all about the number two. It's the second track on the band's self-titled album; it's two minutes and two seconds long, and it was the second single from the album. It was recorded with two drummers playing at the same time, and it reached the number two spot on two different charts in the UK and Australia.

14

The Dust Brothers and The Neptunes both contributed to 'Think Tank,' but their contributions didn't end up on the album.
More From The Moose 94.7 FM