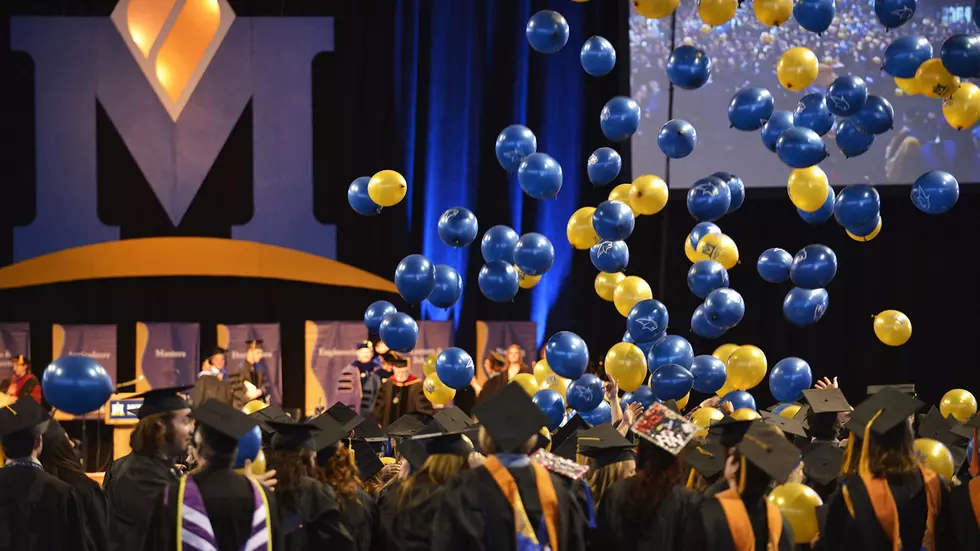 Montana State Spring 2022 Graduation is Friday: What to Know
Montana State University
Friday, May 13th will be a busy day around Bozeman as the Spring 2022 Commencement ceremonies will take place at the Brick Breeden Fieldhouse. Heads up - there are TWO separate ceremonies on Friday, depending on the college and major.
This year you can congratulate your favorite graduating MSU Cat! According to Montana State University: "Use #CatGrad22 on Twitter and Instagram for the opportunity to have your congratulatory message and photo displayed before and after MSU's commencement ceremony on the screens in the Brick Breeden Fieldhouse and online on the live stream."
Tickets are NOT required for guests attending the Spring 2022 ceremony. The ceremony will also be live-streamed HERE for those who wish to see but cannot attend in person.
WHAT: Montana State University Spring 2022 Graduation
WHEN: Friday, May 13th, 2022
Processional: 8:40 a.m. & 1:10 p.m.
CEREMONY TIME: 9am and 1:30pm (see below for more details)
WHERE: Brick Breeden Fieldhouse
LINE-UP TIME FOR GRADUATES: 7:45 a.m. & 12:15 p.m.
Undergraduates - Shroyer Gym
Masters - Brick Breeden Fieldhouse South Tunnel
Doctoral Graduates - Brick Breeden Fieldhouse South Tunnel Taping Room
Faculty - Brick Breeden Fieldhouse North Tunnel - 8:00 a.m. & 12:30 p.m. in full regalia
Which graduates are in which ceremony? You need to know which college your grad is walking with to know which ceremony to attend. For Spring 2022 graduates:
Morning Ceremony at 9am:
Arts & Architecture
Business
Letters & Science
Nursing
Afternoon Ceremony at 1:30pm:
Agriculture
Education & HHD
Engineering
Gallatin College
How do you order photos from the graduation ceremony? You have several options to get pictures. (mask-less graduation photos, commencement ceremony photos, nursing ceremony photos,
What did the MSU graduation ceremony look like in the Fall of 2021? Here's the full ceremony from YouTube and you can of course forward through it or click to a certain section:
Secluded Villa is Most Expensive Airbnb in Montana
More From The Moose 94.7 FM