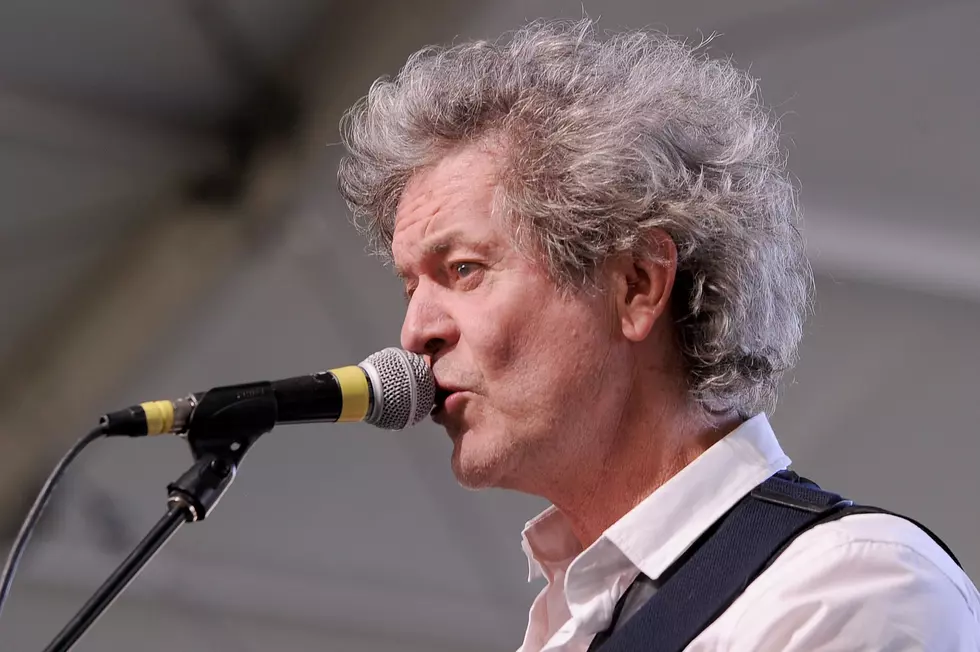 Sunday Brunch- repost- Rodney Crowell is Fine Bourbon Whiskey
Frazer Harrison - Getty Images
In honor of Rodney Crowell returning to the Moose studios this Friday at 9:30 am- Im going to repost this show interview/recap from his visit in the Fall of 2010. Rodney, Emmy Lou and Mary Chapin Carpenter will all be at the Red Ants Pants Fest this weekend in White Sulpher Springs. Enjoy, L.
Now, I know this is a rock station but on Sunday mornings I get to do a show that crosses over many lines. Basically, I get to scribble 'well'  and within reason in a coloring book of my own making that has 'The MOOSE' written on the cover. This morning Rodney Crowell and I had a moment together in the studio.
Rodney made his fame in the Country Music world but was for the most part, on the fringe of the Nashville Scene, as he is at heart, an Americana alt country artist and a singer songwriter of immense skill & talent. He is soaked and steeped with the blood of Nashville. His words have universal tangible appeal. His awards, albums, credits, associations etc... create a resume and list longer than most. The singer songwriter of immense skill & talent and alt country parts are why he is on this rock station this morning. Good is good  is good and we play that on the Sunday Brunch. From Americana to  a bit of alt country, singer songwriter and  so much more, it's right here on Sunday Mornings.
All that said, so very happy to have had Rodney Crowell in the studio this morning. Sometimes Im surprised at my luck. Thank you to Joanne Gardner for making it all possible. I mean really, are crushes on music icons allowed after you have met them? After you have been in the presence of perfection when they play your favorite song solo acoustic and live  all of 4 feet away from you with complete and total intensity?  My goodness, what a moment. You see, I wasn't planning on him singing as he had played at the Pine Creek Cafe last night with the 'Wild Bunch'  Payne from Little Feat & Garnsey and the gang that calls themselves the Hooligans. They knocked it out of the park. I think they all might have pushed their voices- but Rodney has a show tonight in Livingston and my show to get through. We were going to skip the singing live part this morning.
I received a call that playing live wasn't going to happen this morning- so I didn't plan on it and when it did happen- I wasn't prepared to start recording.  It was, for lack of a better word,  a magical performance. Needless to say- no- not on tape.  sigh.  Knowing how these things go- we will never capture that moment again,  but we can keep trying. perhaps we'll get one even better someday. Rodney will be back sometime this Spring and we will see if we can capture a part of the essence of that beautiful version of 'Stuff that Works,' 'Highway 17 and 'Grandma Loved That Old Man.' One thing I know for sure- if you catch one of his shows you will be in the presence of pure grace. He tells stories from his memoir  'Chinaberry Sidewalks.' and plays many songs, some he wrote in the process of putting it together. If you do get a chance- GO see him live!  You will be watching, listening & feeling  the sour mash of youth, fermentation of young adulthood, the refinement that eventual success provides and finally the awareness and wisdom that comes  from sitting on that mantle of success for awhile. From him pours the sweet pure amber gold of a fine Bourbon Whiskey. Rowdy, rough, reflective and refined all at the same time. Needless to say, I'm over the moon that he rallied, played for us and in that gave us all a beautiful gift- let's give one back.
You can find more info on Rodney, his memoir 'Chinaberry Sidewalks' and about those free mp3 downloads at www.rodneycrowell.com Show tonight at the Old School Theatre in Livingston. 8pm.
Here is the playlist from this morning. See you next Sunday right here.
Marc Cohn- The Only Living Boy in New York- Listening Booth 1970
Alison Krauss- Molly B'an- A Hundred Miles of More-a Collection
Patty Griffin- Goodbye- Flaming Red
Jackson Browne& David Lindley- I'm Alive
Ben Solee -Built for This- Learning to Bend
Van Morrison- Sweet Thing- Astral Weeks
Ray LaMontagne- Like Rock & Roll and Radio- God Willin' & the Creek Don't Rise
Patty Griffin- Long Ride Home- 1000 Kisses
Justin Townes Earle- One More Night in Brooklyn- Harlem River Blues
Storyhill- World Go Round- Shade of the Trees
Madeline Peyroux- Dance Me To The End of Love- Putumayo Women of Jazz
John Wesley Harding- Jackson Cage-
Neil Young- One of These Days- Dreaming Man '92
Jason Collett- No Redemption Song- Here's to Being Here
Josh Ritter- Idaho- The Animal Years
Graham Nash- King Midas in Reverse- 4 Way Street
Jackson Browne & David Lindley- Love is Strange/Stay- Love is Strange
Jimmy LaFave- Hideaway Girl- Red House Records 25Year Celebration
J.D Souther- Roll Em Easy- Tribute to Lowell George
Shannon McNally- Pale Moon- Shannon McNally Live
Guy Clark- Stuff That Works- Stuff That Works
Gillian Welch- Tear My Stillhouse Down- Revival
Bill Morrissey- Shake That Thing- Songs of Mississippi John Hurt
Rodney Crowell Live in Studio: a little interview, a lot of live playing and story telling from a master of both.
Grandma Loved That Old Man
Bruce Cockburn- Mighty Trucks of Midnight- NY 97
Joni Mitchell- Cold Blue Steel and Sweet Fire- For the Roses
Jeffery Foucault- Mesa Arizona- Ghost Repeater
Cold Play- Kingdomcome- hidden track on X&Y
Ray La Montagne- Beg Steal or Borrow- God Willin' & The Creek Don't Rise
More From The Moose 94.7 FM