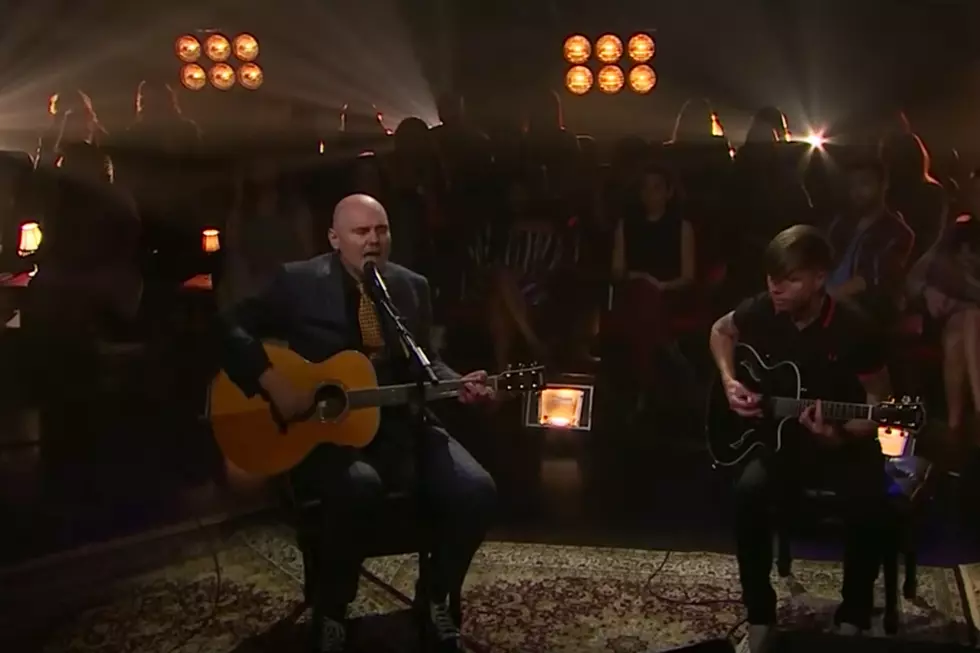 Watch Billy Corgan Perform 'The Spaniards' With Assist From Jade Puget on 'The Late Late Show'
YouTube
Those who've had a chance to check out the new William Patrick Corgan solo album Ogilala are aware that the singer has his finger on the pulse of a more intimate experience. And he helped to recreate that experience for a viewing audience Wednesday night (Nov. 8) when he performed "The Spaniards" for The Late Late Show With James Corden.
In the clip above, you see Corgan getting an assist from AFI guitarist Jade Puget as they both sit upon black benches bathed in pumpkin orange lighting and delivering the beautifully enchanting performance on guitars with no backing. The audience behind the pair is mostly shrouded in darkness, but appear fully engrossed by the performance with a pin-drop vibe in the room until they erupt with a standing ovation at the end of the song. With the stripped back performance, the vulnerability in Corgan's voice is allowed to shine, with the emotion really cutting through to the listener as the singer repeatedly pleads, "Take me as I am."
Corgan initially introduced the song to fans at the end of September, unveiling "The Spaniards" video. The well-constructed video was directed by Corgan's collaborator Linda Strawberry and featured scenes from the singer's Pillbox silent film that is soundtracked by his Ogilala disc. The film has been described as "a hero's journey" following a soldier through a surreal world of war, an odd dinner party and a psychedelic trip. Incorporating bits of live action, found footage and intricate animated sets, the clip definitely catches the eye.
The singer kicks off a four-night stand at The Masonic Lodge in the Hollywood Forever cemetery in Los Angeles this evening (Nov. 9).
Smashing Pumpkins Albums Ranked
More From The Moose 94.7 FM