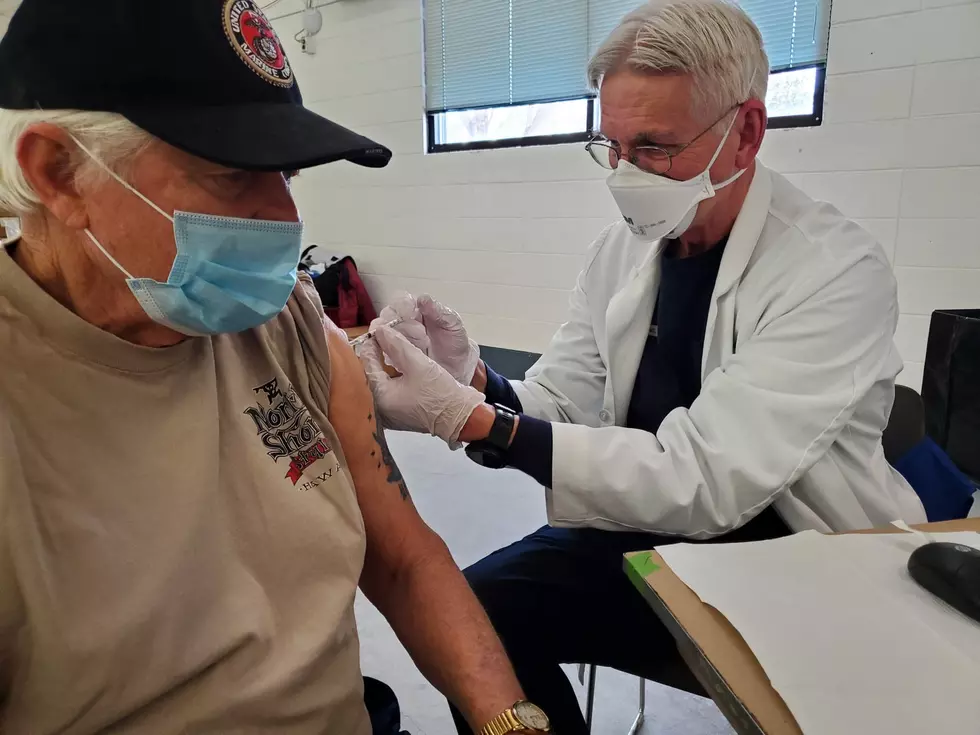 COVID Vaccine: My Dad's Experience
Photo: Ally H. of XL Country
There has been lots of press nationally and locally about getting a COVID vaccination.  While my Dad is not famous enough to get a shot on national TV, I thought it would be helpful to others who are awaiting their shots, to share his (our) experience here in Gallatin County, Montana.
Scheduling
Gallatin County moved into Phase 1B of Covid vaccinations at the end of January. This group encompasses anyone 70 and over as well as people 16-69 with certain underlying health conditions and people of color.  This included my dad, who had said that he wanted to get the vaccine so he would be able to travel and not have to worry about exposure to COVID-19 as a man in his 80's.
I began to search how to get him signed up for the vaccine. There are several ways to get on a vaccination list and people suggested that I sign my dad up for all of them. So, I signed him up through the local health department, through the veterans, and through his local doctor.
Since Gallatin County is only receiving an average of 1,300 doses of COVID-19 vaccine per week, supply has been limited. After several attempts through the health department to try to get signed up quickly, we were able to get an appointment thanks to his local doctor.
Once an appointment was set, we were sent an email confirming the time and location.  Other than knowing the vaccinations were taking place at the Gallatin County Fairgrounds, we weren't really sure what to expect and didn't know anyone who had gone through the process.
The Process
We arrived for the appointment at the Gallatin County Fairgrounds and entered through the main entrance off Tamarack Street. The first building, Exhibit Building 4, had a few signs pointing out the vaccination center. I'll admit, I was surprised that the parking lot was so empty.
We were a few minutes early. There was no wait and three volunteers were ready to check-in my dad. We then immediately proceeded to the vaccination point where numerous tables were available. The retired MD who helped us was able to take his time and speak with my dad about the vaccine, ask some personal medical questions, tell us about the vaccine side effects, answer all of my strange questions, and even chat with us about his family.
After the shot, my dad received a COVID-19 Vaccination Record Card, similar to the one below.
On the vaccination card, they will note which of the two types of vaccines you receive. They are distributing the Pfizer-BioNTech and the Moderna locally.
Following the shot, we were sent into an observation room for 15 minutes. Here, they informed us that they will email a link to set an appointment in four weeks or that we could set that appointment before we left. (HINT: Take a calendar with you so you can easily set up your second appointment.)
Overall, the process was pretty straightforward once the appointment was confirmed. Everyone was very polite and informative. The shot itself is a small needle and less painful than a typical annual flu shot.
Gallatin County has distributed 12,740 first doses of the vaccination and 5,142 doses of the second as of Tuesday, February 23rd. Currently, the eligible population to be vaccinated is 94,211. To see how the county compares to the rest of the state, see a full map of vaccine distributions here.
If you do have questions about the vaccine, you can reach the Health Departments Call Center at 406-548-0123 or by emailing callcenter@readygallatin.com.
LOOK: Answers to 30 common COVID-19 vaccine questions
While much is still unknown about the coronavirus and the future, what is known is that the currently available vaccines have gone through all three trial phases and are safe and effective. It will be necessary for as many Americans as possible to be vaccinated in order to finally return to some level of pre-pandemic normalcy, and hopefully these 30 answers provided here will help readers get vaccinated as soon they are able.
Enter your number to get our free mobile app
More From The Moose 94.7 FM