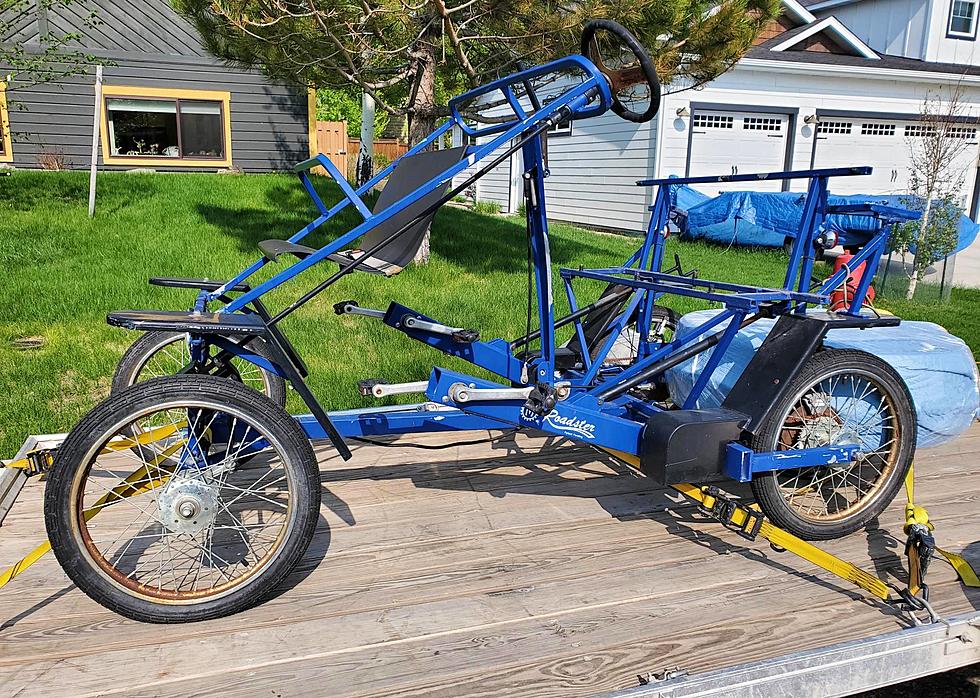 This Unique New Bike Fad May Be Invading Bozeman Streets Soon
2 person bike - Michelle Wolfe
Bozeman loves to be different. It also loves anything retro. There's a new transportation method that hits both qualities and we're betting you'll be seeing it on Bozeman streets sometime soon. A two person bike, anyone?
It wasn't the first time I had seen one of these around the Valley, but my neighbor came home with this cool, retro 2 person bike that he had bought at an auction. Although it needs a little elbow grease and some touching up, it functions perfectly fine.
I thought this thing was really cool, so I did a little research online. Turns out there's quite the trend brewing for these 2 person bikes. You can buys new ones, or find a vintage model like my neighbor did. Some new screws, some fresh oil, and touch up paint and you've got Bozeman's next fad.
Now, this brings me to my concern - if this really is a 'thing', Bozeman streets might get a little crowded this summer. As cool as they are, these large (wide) bikes aren't going to be a great fit on many popular Bozeman streets. Can you imagine trying to get around one on Mendenhall?
When you do a little shopping around online, you can find models with full trim packages, flags, and roofs for sun protection. Basically, you can deck these things out however you want. Exactly the kind of thing Bozeman folks love! (We took a look at a site called Motrike.com. They've got tons of different models if you're looking for a new model, not a renovation project.)
Parbikes is another online retailer of these funky 2 person bikes. This site offers a thorough selection of accessories for your new funky ride. Heck, for $2,250 you can turn your bike into a motor bike. (Who wants to actual pedal around, right?)
Best Mexican Restaurants in Bozeman
Craving authentic Mexcian food? Here are a few great restaurants to check out in Bozeman.
Hiking Trail Etiquette: Dos and Don'ts
We have countless, wonderful hiking and walking trails within easy reach of town. But being a Montanan means caring for your surroundings, AND others. Keep in mind these trail basics while enjoying the outdoors. Safe hikers are happy hikers!
The Reviews Are in For Somers Beach State Park in Montana
If you want to know what the park is like, well, it may depend on whether you see the glass as half empty or half full.
More From The Moose 94.7 FM