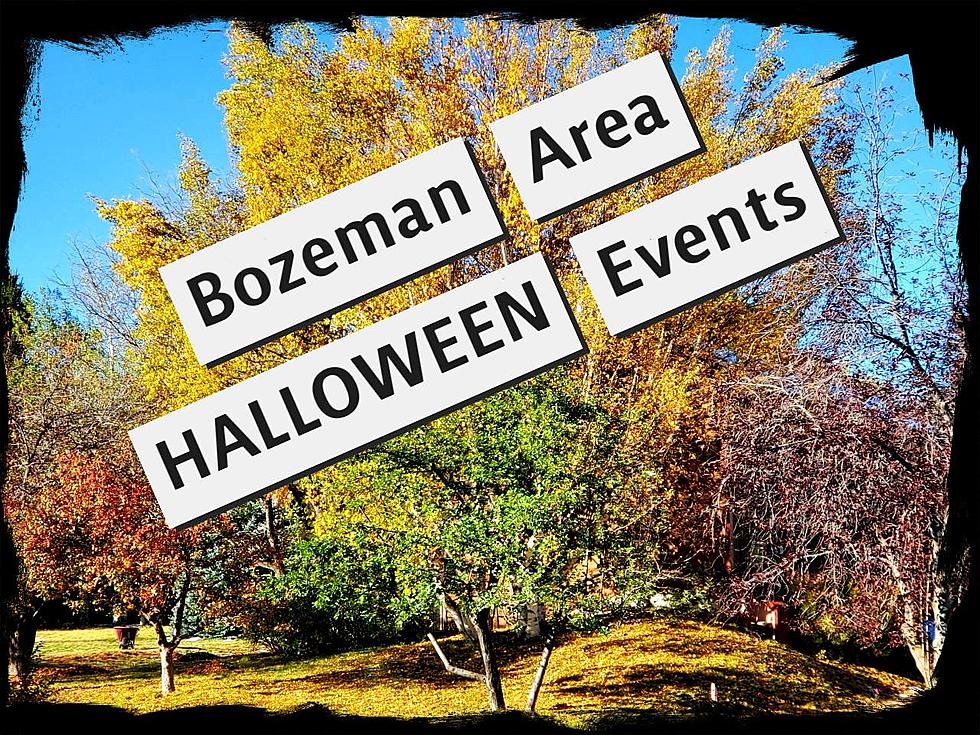 11 Creepy Bozeman Area Events: Ultimate Guide to Halloween 2021
photo: Michelle Wolfe
Let the Halloween fun begin! Downtown Bozeman trick-or-treating is NOT happening, but TONS of other fun events are happening for kids and adults alike this Halloween.
Thursday, October 28th: Eagle Mount Halloween Extravaganza - (6901 Goldenstein Lane, Bozeman) Happening 5pm to 7pm. Trick or treating in the grove at Eagle Mount along with refreshments and activities. Tickets are free but must be reserved in advance at the link above. Sponsored by Lone Peak Physical Therapy.
Friday, October 29th: Bozeman TRUNK or Treating at Billings Clinic BOZEMAN - (3901 Wellness Way, Bozeman) Happening 4pm to 6pm. Hosted by Billings Clinic Bozeman. This is sort of a "drive-in" event", fun for both adults and kiddos. Treats will be given out while adults have a chance to meet providers. Masking is required.
Friday, October 29th: BooTown Throwdown! at the Gallatin County Fairgrounds - Hosted by Outlaw Country Dancers. Happening 7pm to 11pm. Family friendly, NO alcohol allowed. Lessons: 7:00-7:45, Dance Competition and Costume Contest: 9:30pm. Admission is $6 for singles, $10 for couples.
Friday, October 29th: Halloween Party at Wildrye Distilling - (111 East Oak, Bozeman) Happening 5pm to 8pm. AUIDEO is co-hosting a live DJ set and emceeing a night that includes a costume contest, Halloween cocktails, spooky games, Halloween music, and surprise prizes!
Friday, October 29th: Halloween Party with Belgrade First Ward Members and Missionaries - (297 Bridger View Dr, Belgrade) Starts at 6pm. Come in your best costume and join the fun. Chili Cookoff, games, Trunk-or-Treat, and more.
EVERYONE is invited. (Church of Jesus Christ of Latter-day Saints.)
Saturday, October 30th: Run for Your Life Halloween 5k & Kid's Run - Starts at MSU Bobcat Stadium, Gate #8. (Also functioning as a virtual event!) Benefit for the Help Center of Bozeman. Race starts at 9:30am. Register in advance at the link above. Adults are $25, Kids Run is $10. The virtual 5K is $15. Halloween-themed 5k Run/Walk, and Kid's Fun Run to benefit the Help Center's suicide prevention and crisis intervention. THIS IS A DOG-FRIENDLY EVENT (leashes).
Saturday, October 30th: Family Grossology Halloween Party at the Museum of the Rockies - Starts at 2pm. Costumes! Gross science! Make icky craft projects! See the science of scabs on a big screen! (gross.) Goody bags. The event is included with membership/admission and runs until the museum closed at 5pm.
Saturday, October 30th & Sunday, October 31st: Halloween Costume Contest + Trick or Treat! at Dee-O-Gee Bozeman - (2051 Oak Street, Bozeman) Happening all day on Saturday and Sunday. It's a costume contest for you and your furry friend! Treats and prizes will be awarded.
Saturday, October 30th: Boo Bash at the Gallatin Valley YMCA - (3673 Love Lane, Bozeman) Happening 1pm to 4pm. Costume contest, ghoulish games, creepy craft projects, sweet treats, and prizes.
Saturday, October 30th & Sunday, October 31st: SYMPHONIE FANTASTIQUE by the Bozeman Symphony Orchestra & Symphonic Choir - Happening at the Willson Auditorium. Saturday performance starts at 7:30pm. Sunday at 2:30pm.  "Bozeman Symphony's performances of Symphonie Fantastique, a rare sonic event that may not be witnessed in Bozeman again for decades to come. The last time the Bozeman Symphony presented Hector Berlioz's fantastical masterpiece of human emotion was May 1, 1977. Sergei Prokofiev's whimsical yet dramatic Piano Concerto No. 3 in C Major will open the concert starring brilliant Italian-born pianist Rodolfo Leone. PROKOFIEV Piano Concerto No. 3 in C Major. BERLIOZ Symphonie Fantastique" TICKETS: $27 and up.
Saturday, October 30th: Halloween Mash-Up with Dusty Dilsnick and Addison Lea Thompson at The Filling Station - (2005 North Rouse Ave, Bozeman) Starts at 7pm. Halloween Shindig, including a costume contest with a $100 giveaway for 1st place and $50 for 2nd place.
13 Spooky-But-Not Scary Halloween Movies
These films are perfect for people who love Halloween but don't love super scary movies.
More From The Moose 94.7 FM