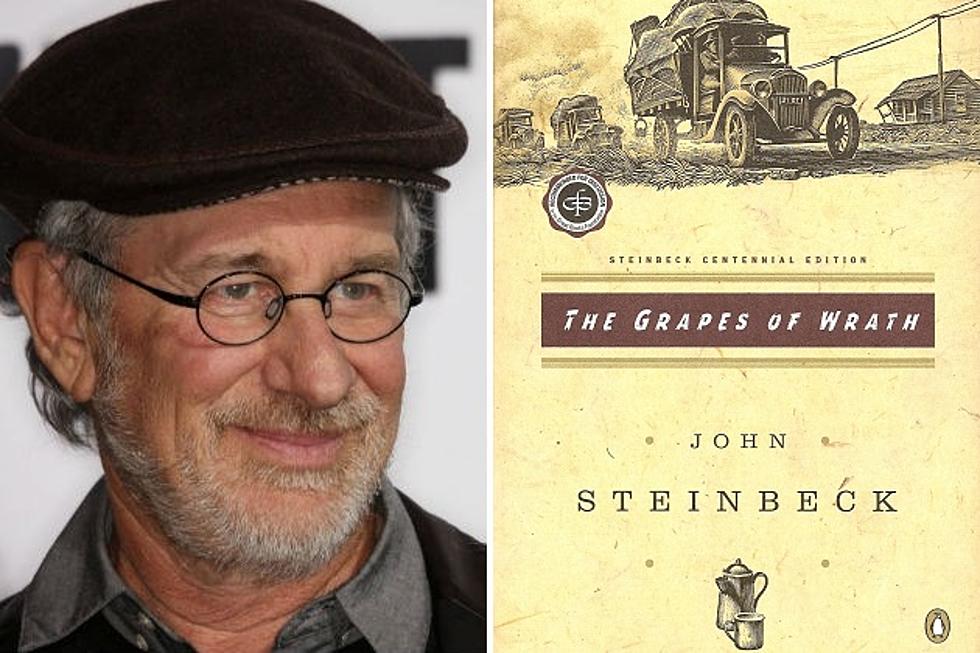 Steven Spielberg Wants to Produce a 'Grapes of Wrath' Adaptation
Getty images, Penguin Books
In what must be great news for lazy students who hate watching black and white movies but don't want to read a book, Steven Spielberg is looking to produce a new adaptation of John Steinbeck's classic novel 'The Grapes of Wrath.' And it turns out he's not the only one interested in updating this classic.
Deadline is reporting that there have been many interested parties (including Robert Redford) who want to take a crack at filming Steinbeck's masterpiece, but it looks like Spielberg and DreamWorks will get the rights. It also looks like Spielberg will only be producing the update, not directing. Perhaps he doesn't want to be seen as remaking the John Ford version, which won two Oscars and is still held as one of the great American movies.
It's fascinating that this has become a hot property. If you haven't read the book, it's about the Joad family, who move from the dustbowl of Oklahoma to California during the great depression, and their oppression leads son Tom Joad to be an advocate for human rights. Though perhaps the success of 'Zero Dark Thirty' shows that audiences are interested in watching topical movies, of late Hollywood has shown little to no interest in political cinema. Perhaps the success of 'The Great Gatsby' is spurring them on, so maybe we'll see 'The Grapes of Wrath' in 3D sometime in 2015.
More From The Moose 94.7 FM