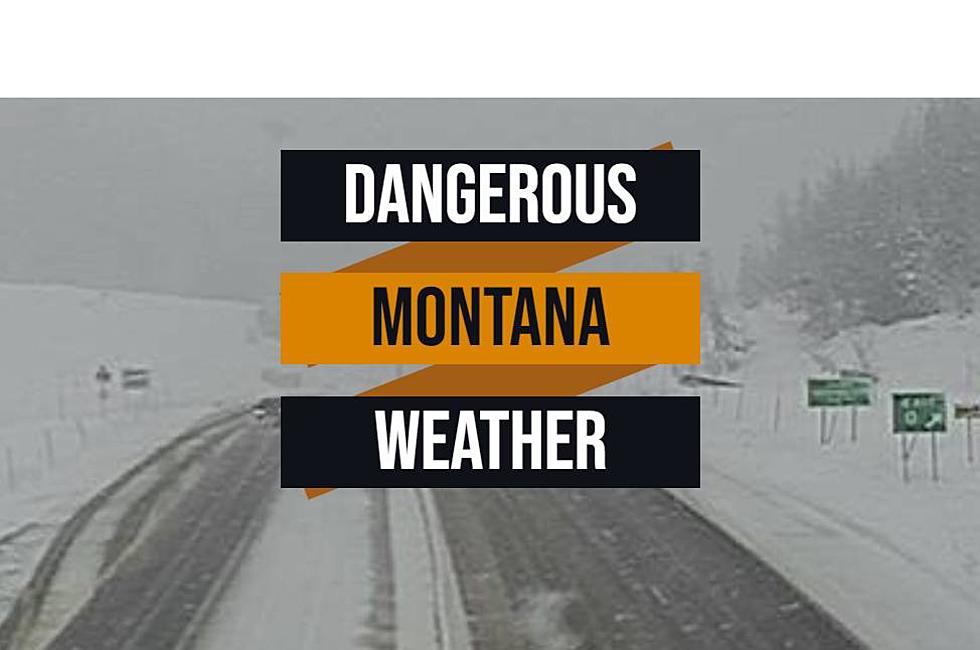 Zero Visibility: 50+ MPH Winds Plus Heavy Snow For Montana Passes
Michelle Wolfe
Saturday and Sunday will very unpleasant at times for Montana travel, especially through almost all of our mountain passes and high elevation in general. Heavy bands of snow combined with 50+ MPH winds are expected at times which will drop visibility to near zero. Conditions are going to fluctuate rapidly in dozens of Montana counties.
There are High Wind Warnings and Winter Weather Advisories in effect across most of southwest and western Montana. Many counties are under these warnings and advisories all day Saturday, but several of them continue through a portion of Sunday.
NOTE: The unpredictability of this weather system is of great concern. Because of this, travel through Montana passes is not recommended and towing units are (quite frankly) a bad idea. Using caution and being conservative with decisions could save a life.
Some of the highest Montana passes could get 5 to 8 inches of snow, and winds of up to 60 MPH at times. It certainly might not get that bad everywhere that has a warning, but those conditions are a recipe for zero-visibility disaster wherever they DO crop up.
WINTER WEATHER ADVISORY REMAINS IN EFFECT UNTIL MIDNIGHT SATURDAY.
WHAT...Snow and wind expected.
Total snow accumulations between 1 and 5 inches, with up to 8 inches above pass level.
Winds gusting as high as 55 mph.
A band of heavy snow will move through the area late this afternoon or early this evening, which could bring a sudden drop in visibility.
WHERE...Gallatin and Madison County Mountains and Centennial Mountains.
For the Butte and Homestake Pass area, conditions may also deteriorate quickly, even though their advisories are for a shorter amount of time this weekend. Keeping a close eye on the MDT cameras will be helpful but again...conditions are expected to get very bad quickly where they decide to get bad.
WINTER WEATHER ADVISORY REMAINS IN EFFECT FROM NOON SATURDAY TO 9 AM SUNDAY.
WHAT...Snow expected. Total snow accumulations of 1 to 3 inches.
A band of heavy snow and gusty winds up to 50 mph are expected late Saturday afternoon into early evening. A period of very low visibility and quickly deteriorating roads is possible.
WHERE...Butte, Georgetown Lake, Highway 12 Garrison to Elliston, Homestake Pass, and MacDonald Pass.
Further west, near the Montana/Idaho border...snow accumulations are expected to be the highest and travel the most difficult this weekend. Extreme caution should be used, and road closures are a possibility.
WINTER WEATHER ADVISORY REMAINS IN EFFECT UNTIL 9 AM SUNDAY.
WHAT...Snow expected. Total snow accumulations of 6 to 14 inches over Lolo Pass, Lost Trail Pass and in the higher terrain.
Lower elevations down to 2500 feet can expect 2 to 4 inches.
WHERE...Elk River, Highway 11 Pierce to Headquarters, Pierce, Dixie, Elk City, Highway 12 Lowell to Lolo Pass, Highway 93 Sula to Lost Trail Pass, and Lolo Pass.
WHEN...Until 9 AM Sunday.
IMPACTS...Travel could be very difficult.
KEEP READING: Get answers to 51 of the most frequently asked weather questions...
More From The Moose 94.7 FM